Simple Software Solution For Complex Operations!
Looking to boost your business to higher levels of success?
We deliver bespoke software solutions in line with your goals

On demand Parcel delivery Platform- Driver007
Driver007 is an on demand parcel delivery platform for company driver, retailer and individual in logistic industry. It is a perfect solution to effortlessly manage online delivery through a single centralized dashboard. This platform help you track, schedule standard, express deliveries, generate daily business analytics report and optimize ROI. It is handy at every stage of delivery service; provide users with real time tracking, suitable online payment method, and instant smart search, quick and convenient delivery. Business owners can save money as they don't have to invest in logistics, vehicles and full time courier to deliver their product. Retailer can keep their customer updated through the order delivery lifecycle. Reduce delivery time and cost by automating delivery tracking, dispatch, route optimization. Boost profits and efficiency of your business with Driver007.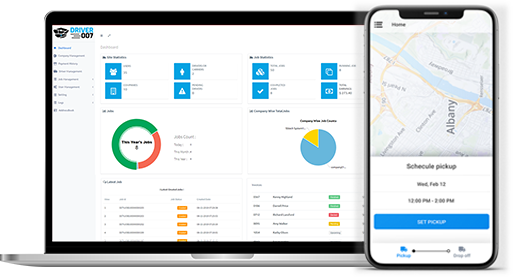 Features
Driver Management: Store driver's details, background check, driver's license and other documents  keep track of all the activities of drivers from a single dashboard.
Job Management: Company admin can create a job, assign jobs, to drivers and check the status of the job from creation till delivery.
Proof of Delivery: Never miss a delivery with digital signature, photo and location as delivery verification by the driver.
Driver rewards: Driver can earn silver; gold and platinum rewards points on the basis of customer reviews and ratings.
Customer rate and reviews: Customers can share their actual feedback on their experience with the delivery service.

Human Resource Management System – HRMS
HRMS is a global human capital management solution that makes work life better. Our product is easy to use and powerful enough to provide the data you need to run your company effectively. It includes full-suite HR functionality, from company management, time, attendance, payroll, leave management, to event management and benefits administration. It brings unmatched expertise to help companies build a better workforce. HRMS was architected from the ground-up to make it wildly faster and easier to manage work. It eliminates manual data entry, provides real time reporting across your workforce and allows you to transact with the data for any given time period. So now you can say goodbye to paperwork forever with our all-in-one HR Software.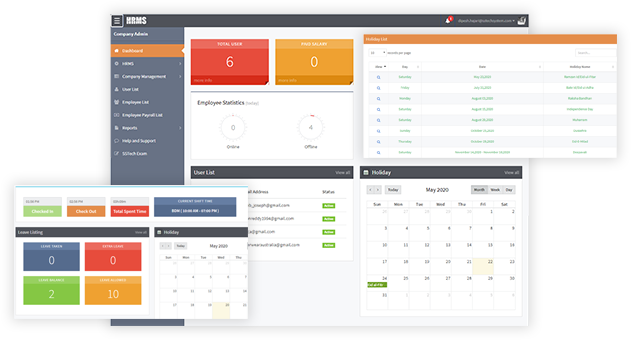 Features
Employee Management: Be more efficient with your time and reduce repetitive administrative tasks.
Attendance Management: Robust attendance tracking system that encourages punctuality among employees.
Leave Management: Highly configurable and flexible leave management system to meet your company requirement.
Payroll Payment System: Improve compliances, mitigate errors, save time and retain control over payroll processing.
Company Management: Manage multiple companies HR operations efficiently in one system

School Management System (SMS)
SMS is capable of managing and streamlining the day to day chores of administration with the power of automation. It is equipped with tremendous modules and outstanding features. It serves as the one stop solution for the management of a wide array of operations ranging from admission to inventory and much more. It allows parents to stay updated with their child performance levels. Our software has top features like student fee, exam, student detail, library, admission hostel and more. It makes students, parents, staff and school owners engagement, scheduling, curriculum, tracking achievement and progress, fees payments and much more amazingly simple and easy. It is designed and developed with a motive to manage all aspects of school administration.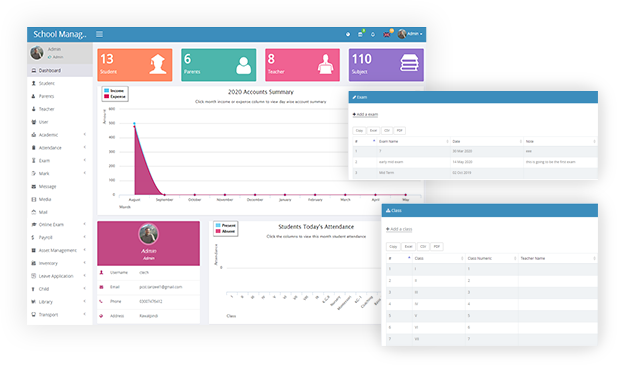 Features
Admission management: Entire flow of admission is taken care right from filling up the form to selection.
Time Table management: Experience the ease of class schedule, with proper allotment of faculty by mapping the class, sections and teacher details.
Exam management: Manage student exam data efficiently and maintain security in exams with automated process.
Library management: Manage all the library item details and keep a track on all the books issued and return in an automated way.
Fees management: Reduce time and efforts and also eliminate human errors with online fees payment facility.

Shipping Plugin
SSTech Ship is a flexible woo commerce shipping plugin, that allows to calculate shipping costs based on weight. This plugin can be used by inserting and validating the license key and getting access token from Omni parcel site. It has every feature that you would need to manage your orders, offer shipping rates to customers, automatically generate and print the shipping labels in various formats along with postage. You can manually adjust the shipping rates based on your business strategies. It supports shipping rate calculation based on per unit weight, quantity and price. You can create unlimited shipping rules based on shipping classes, product categories, order weight, product quantity and order subtotal.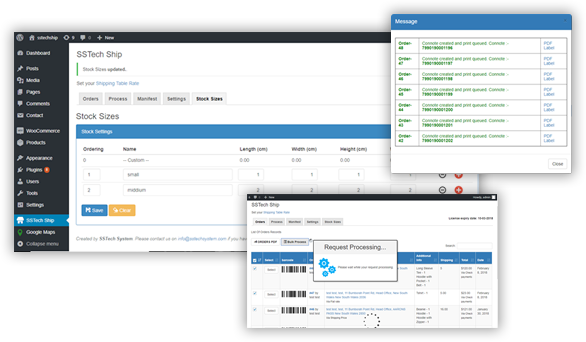 Features
Shipping Label: Generate shipping label in PDF format of A4 size after choosing on best available rates from multiple rates a connote number will be created. Stick shipping label with order package.
Manifest Order: Display processed order and whose consignment number is created, and is ready for manifest.
Package Size: Manage all type of package size by creating custom packages from stock sizes menu. The custom package size will be available at the time of connotes generation.
Bulk Order: Multiple orders can be processed by sending request to create consignment of all selected orders. It will create consignment using cheapest rate available.
Compatible: It is compatible with woo commerce version not less than 3.0 and further shipping companies integration is available.
Your inquiry is precious to us. We will be delighted to help you in your queries. Our customer care representative will be back to you shortly within 24 hours and would be delighted to do free analysis of your requirement. For prompt reply please contact us on Phone No: +91 87 80064339 or Skype: sstechsystem. Otherwise we will revert back to you on your email. Until then make certain to have a look at our resources blog, portfolio, products