SSTech HRMS enables you to build an error-free, consistent approach to HR management, with people data and documents all stored in one secure place. It removes those manual jobs you hate, reduces risks, and get in complete control. Just have peace of mind, knowing that your employee's data is safe and keeping costs to a minimum. With simple reporting, leave, attendance management, company, payroll management, and much more. Our platform offers all the tools you need to support your employees. With the extra modules, features, and add-ons it also has the capabilities to grow, as your business grows further and engaging your teammates at every stage of their careers. Our software is designed and developed to make your HR activity more efficient. We help your people to focus on the job they love and enabling you to look forward to continued success. Our scalable platform automates HR processes and provides one central place for all your people data, ultimately saving your time and money. It also helps to safeguard your business by reducing risk.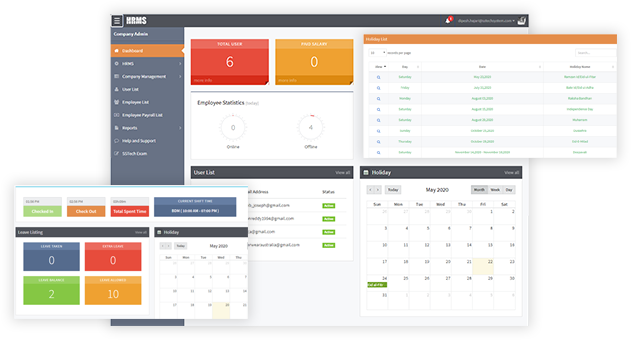 Let SSTech HRMS help you with all your day to day HR tasks, select separate modules, or use the complete integrated solution to cover all of your company's needs.
Key Benefits of SSTech HRMS
When you have more employees working for you, it can become an administrative nightmare to keep track of basic employee information. If you rely solely on a paper-based system. Simple questions like, how many holidays have I taken? Or can I have a copy of my last 3 payslips? Become extremely time-consuming.
SSTech HRMS eliminates a lot of paperwork and helps standardize processes related to employee information like employment history, education, personal information, certifications, education, and compensation information. It also saves time by gathering and keeping all the information in one place.
More time for important things
Free yourself from administrative chaos, time-consuming processes, and lack of data that hold you back. Engage your time in more important things.
One Platform for HR processes
SSTech HRMS automates and simplifies HR tasks within a single solution, so enjoy enough time for strategic HR initiatives. Have benefit from data and processes that are simply integrated.
Employees can focus on essential
Employees have quick and easy access to any data regarding their leaves, salary, payslips, HR data, etc. This tends to save a lot of your HR efforts and time and they don't have to perform time-consuming searches or accidentally falling across confidential data. With clearly defined access rights, you can effectively prevent leaks of salary data or any other nasty surprises.  Employees can view the HR information they need to be productive without HR needing to get involved. It allows employees for self-service and get their queries attended immediately.
Keep matters confidential
Employee's roles and associated access rights are defined, which allows you to not only define who may view, suggest or edit which information, but also ensures that you successfully balance transparency and compliance in your data management.
Control the flow of information
Colleagues continually asking you for information take up a lot of your time. Defining appropriate roles and access rights for employees and managers enables them to view relevant data in the system and work seamlessly.
Security and Disaster Recovery
Keeping your employees information in a filing cabinet is not secure enough, you would not know if someone has tried to access it. With our platform, the information is extremely secure, in unforeseen calamities like flood or fire you can't access the office for a while, and will people still get paid, if all your payroll information is stored on-site? The feature of being hosted on the mirrored server and keeping database backups at secure separate locations, which enable the system to restore quickly even in the most calamitous disasters are incorporated in HRMS.
Salient Features
1. Employee Management
Tracing and recording employee data had never been easier, Our HRMS organizes your HR documents centrally for every employee to make sure you have all the information that you need at your fingertips at any time. Your HR department now does not need to crawl through multiple files and spreadsheets, which saves their time, so HR can invest these saved hours in other developments. There is always clarity and transparency about which data is stored where and when it was recorded. Creating a proper employee database is important to do the task for perfect payroll. Automatic counting of worked hours and creates the required database for every month. And it also helps in cutting down errors. Our platforms let your HR work from any remote location as well. It also makes sure that documents and information are readily accessible to relevant stakeholders, even remotely, when a colleague needs information while you are on leave.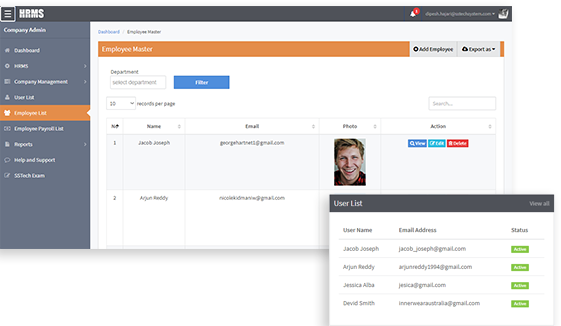 You can now forget about physical folders all over the place or excel spreadsheets. In HRMS everything is filed and archived centrally. Employees can upload their documents directly, including medical certificates and qualifications. You can even store frequently asked letters of recommendation, official letters like experience certificate, confirmation, offer, increment letter, transfer, address proof, etc.
2. Attendance Management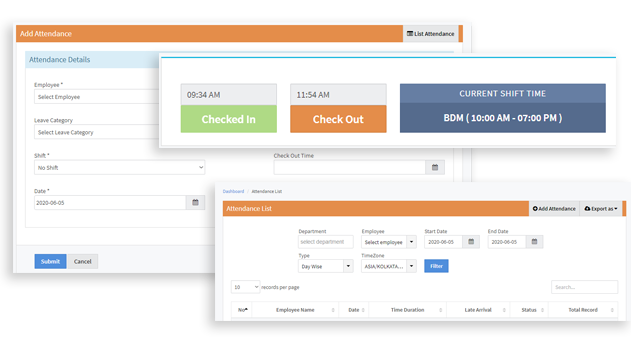 Our online attendance management platform simplifies attendance tracking with our online attendance system. It offers flexible options so that you can set working hours, shift timings, and more for a particular employee, department, or category wise. You can also set separate working hours and settings for each employee using the master details. It implements effortless processes to ensure that attendance tracking is as easy as possible for everybody and working hours are calculated correctly. Employees can check their attendance, total hours worked each day, which creates transparency in the process. All the working hours are recorded centrally in HRMS so that you always have an overview of all hours worked for reporting and analysis.Employees can easily check-in and checkout to mark their attendance and get paid for their worked hours accurately and timely.
Our system lets you download/generate reports of all the required parameters like late remarks, shift details, and punches anytime. You require accurate attendance details, shift details, overtime, and much more and is capable of fulfilling all needs of the HR. It helps to track accurate attendance records, save times and decrease administrative work. So from now say no to old practices and let your employees mark their attendance online.
3. Leave Management
With our leave management platform, you can say goodbye to the old and tiresome process of leave approvals over phone or emails, it lets your employees and managers tackle leave requests with ease. Employees can view their leave balance, leave taken, extra leave, holiday list, and any other records anytime, anywhere, you can even process various leave requests with ease, and employees quickly receive their responses. It provides information regarding employee's leave, reason, days, etc. Manage and track employee leaves with simple and easy to use interface. Free yourself from worry about data integration or miscalculations. Employees can easily apply for their leave and download their leave details. This gives flexibility to your work culture bringing in a better work environment. Our system lets you manage to leave related concerns, reports, etc with comfort.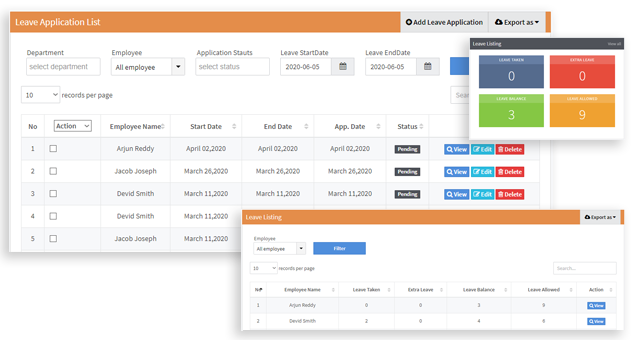 HR can be prompt while attending leave requests, they don't need to run through tons of procedures for even small approvals, so employees don't need to wait for decades for their requests to get attended by their HR. All these add up to improve workforce efficiency and productivity. You can get complete leave history of your employees, it lets you check employees' leave balance and other associated details like available paid leaves, approved leaves, rejected or pending leaves, etc. when required. So use and enjoy an automated leave management system.
4. Payroll Processing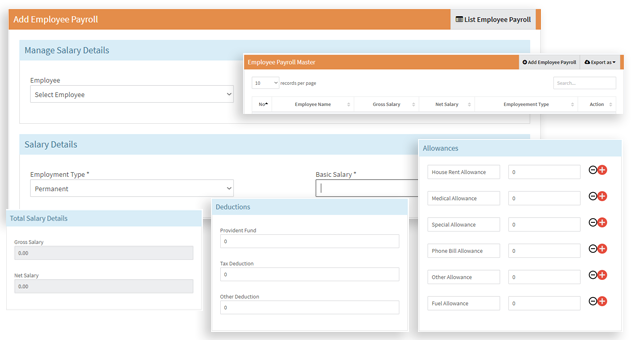 Payroll is much more than just issuing paychecks! It also involves filing taxes and managing paycheck deductions. Payroll is a crucial and important part of any company, for financial as well as legal reasons. Our online payroll software eases the very laborious task, automate, manage, and streamline the process of making salaries every month to employees. It calculates payments; performs statutory compliance duties and deposits monthly payments into the designated bank account of employees. Our payroll is designed to mitigate the risk of any error in salary calculations, incorrect tax deductions, error in attendance records, which can cost an organization dearly in the form of penalties and also makes employees unhappy.
Our payroll module is designed and developed to suit every small, midsized, and large organization to enhance their payroll processing and adding to the productivity and profits. It stores employees' data and automatically calculates and process payroll every month based on intelligent computation and deductions, accurately calculates the payroll parameters like worked hours, gross pay, tax deductions including TDS, etc to avoid any mistakes or miscalculations and you don't have to worry about data security theft. You can have transparency through information-rich pay-slips to avoid any second thoughts. It is cost-effective and saves a huge amount of effort, time of the HR. Enjoy error-free, timely, accurate tax, and salary computation with our payroll management module.
5. Company Management
Our platform manages details of various companies, in the master dashboard which includes company creation, by adding their name, logo, and other required details. Each company can set their leave, work policy, departments, roles, designation, holiday list, leave category, shift, visa category, employees list, employees payroll, user, attendance, leave application, leave listing, allowance list, salary payment list, salary payslip report, event list, notice list can add their company policies and other documents, generation of reports, help, and support. Each company can see the list of online and offline employees on the dashboard every day. Several times consuming tasks can be automated such as timekeeping, and other activities. It will open up time for more strategic tasks and business development for faster growth.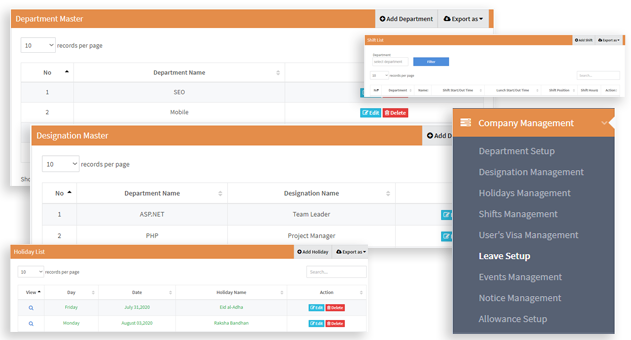 6. User Visa Category Management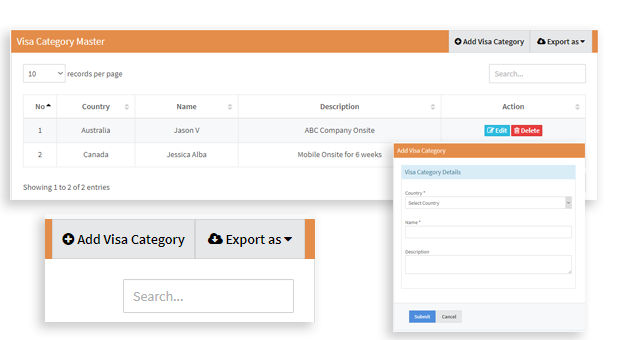 The companies can manage their user's visa categories by adding a country name, user name, description for the employees traveling to a foreign country to conduct business, or to attend meetings with clients. Even when the employee is traveling to a foreign country to work as an expatriate for several years.
7. HR Analytics/ Reporting
HRMS can give you the valuable insights that you require for better and more informed decision making. It helps in assessing all of the data that is stored within the HRMS. It provides reliable statistics for better decisions. Companies can make sound decisions quickly, can commit to new business initiatives, analyze their growth plan, and stay competitive if all of the data is in one place. HR can store a great deal of important information to drive company growth, use predefined reports for recurring questions, or create their own reports e.g on salary progressions.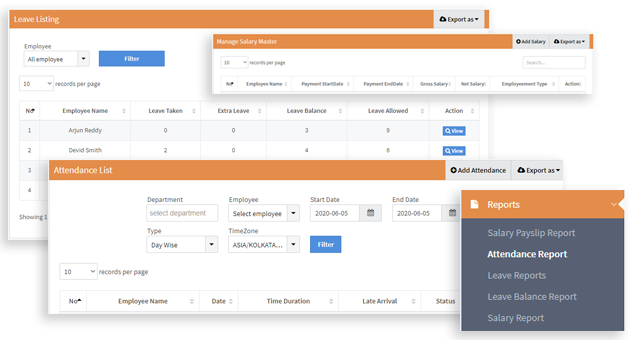 Looking to engage your employees, not excel sheets, then SSTech HRMS fall in place, irritating concerns just vanishes and the workplace becomes a fun zone, a simple system must for all organization to track employee life cycle activities, get deep insights with zero effort.
Now Say Good-Bye! To Rework, Inconsistencies And Confusion, Say Hi! To Happy Employees And Higher Profits!
Our Products
For Excellence
Software designed, build for possibilities and inventing better future.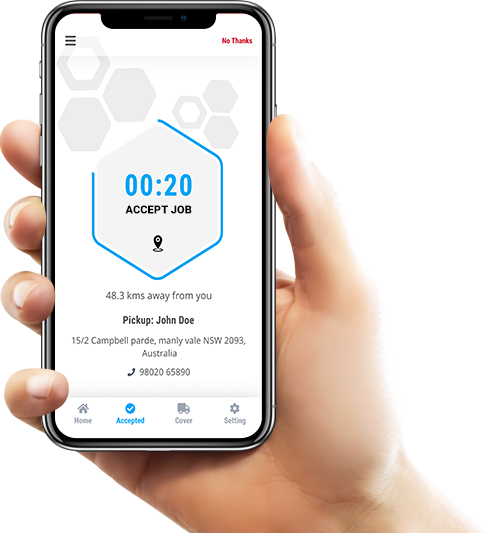 A perfect
business
companion/partner
We deliver products that effortlessly manages your business, run fast, costs less and a real time solution.
Your inquiry is precious to us. We will be delighted to help you in your queries. Our customer care representative will be back to you shortly within 24 hours and would be delighted to do free analysis of your requirement. For prompt reply please contact us on Phone No: +91 87 80064339 or Skype: sstechsystem. Otherwise we will revert back to you on your email. Until then make certain to have a look at our resources blog, portfolio, products