SSTech System school management software provides the comprehensive solution to manage school system effectively, developed and designed to simplify the work for wide variety of operation for teachers, students, parents, administrators, examinations, fees, events. It is simplistic, easy to use online school management software, which has tools and features to help you manage and improve your school and simplify daily work for schools and institutions. It keeps you updated wherever you are. Secure, reliable, our amazing support team is always happy to help. Our aim is to build an interactive community which has a common platform for students, teachers and parents.
Our highly qualified and experienced programmers develop and design professional ERP solution for schools beneficial to teachers, students and parents as well. Our school management system includes various modules such as academic, student management, administrative, hostel, transport, financial modules and much more. We aim to improve the overall efficiency of the school by using the advanced technology and to take the education system at higher level .Web-based school management software is the best way to handle school operations in a successful, timely and structured manner.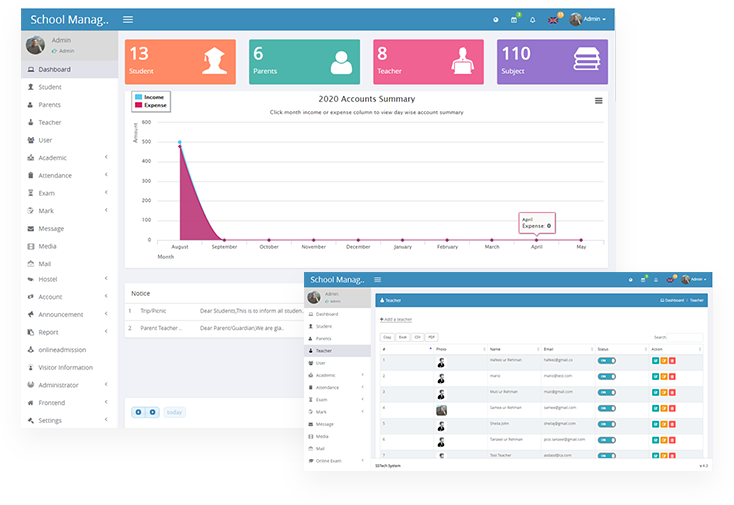 How School Management Software is useful?
Full control of your school anywhere any time
Student Information, admissions, attendance, communication, invoices. Generate insightful daily activities, students and teachers reports.
Better Scheduling
Stay updated with happenings in your school or institution, class schedules, events, exams, bookings, progress, payment reminders and many more.
Academic Culture Improvement
It brings a new fun way of learning with technology, thereby improves the academic culture.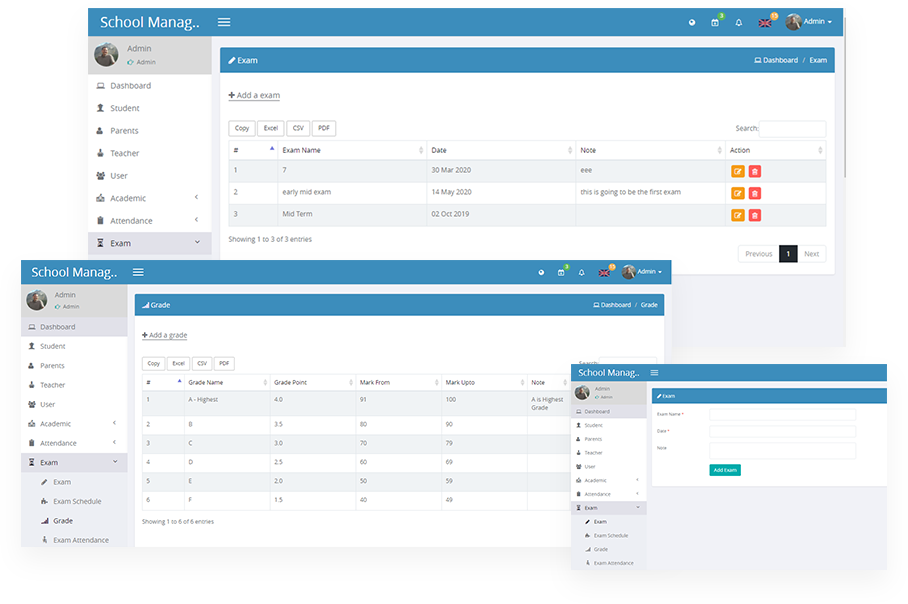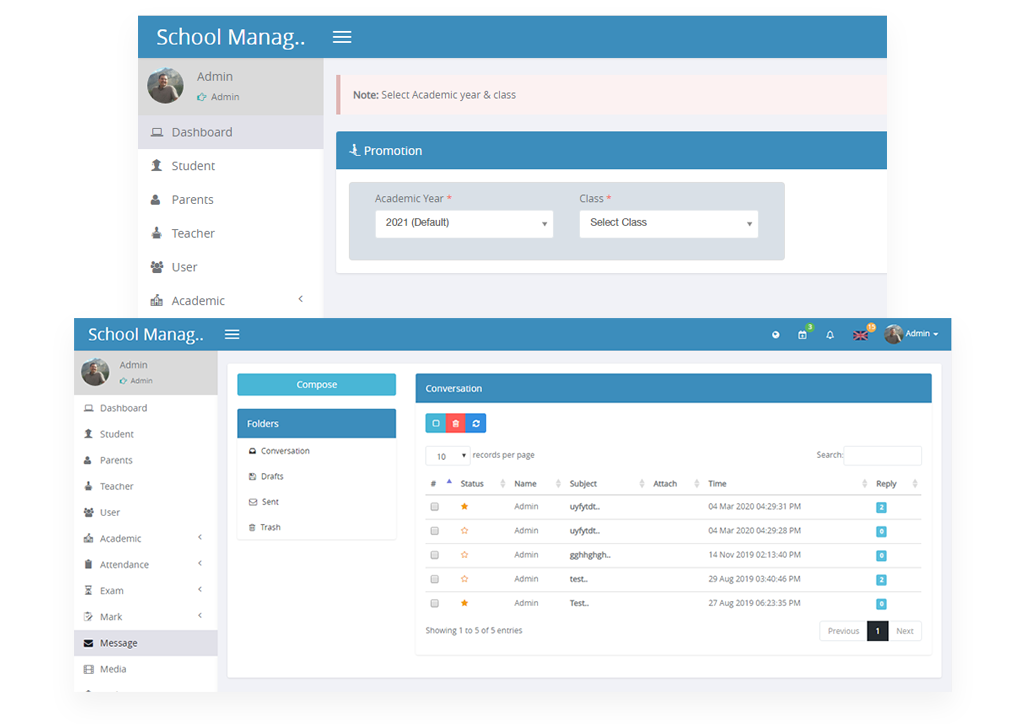 Transparency
The school management software provides the transparency by online schedule of exam, marks, notifications, attendance, co-curricular events updates online.
Collaboration of Parents
Parents get connected with their wards school activities and get regular notification of their progress, performance and happenings in the school.
Payment Gateway integration
School management software has a built in online payments gateway to streamline the process of collecting fees. Send invoices, reminder, automate fee plans, reoccurring fee changes etc.
Different Modules
Student Module
Better communications: 24/7 access to teacher's notes, assignments, marks, class schedule and activity.
Higher Level of Engagement: Students understanding of expectations and their academia produces higher levels of student engagement.
Safer Campus Environments: Administration can help support safer campus environments for students with our powerful solution.
Parent Module
Peace of Mind: Parents can see their child's status at a glance, providing the peace of mind parents need.
In the Know: Update them with attendance records, grades, teacher's notes, extracurricular calendars, assignments and more. It helps parents evaluate their child's educational activities, send notice of meetings and annual reports and bring them in contact with teachers.
Customizable Alerts: Alert them with low grades, misconduct or even irregular attendance.
Teacher Module
Engaged Students: Easy access to materials, assignments, calendars and teacher notes.
More Free Time: 24/7 access to answers about anything.
Teacher Class Pages: Easy to use platform to post syllabuses, class photos, videos, grading policies, teacher bios and much more.
Assessment and assignments: A different pattern of examination papers can be prepared by teacher easily for avoiding cheating.
Administrator Module
Improved Communications: Send Emergency text messages, communicate with teachers and faculty, and send bulk email announcements to parents.
Increased Efficiency: Track attendance, log and retrieve grades, post assignments and more.
Better Management: Centralized software with powerful reporting capabilities.
Core Features of the School Management System
Student admission management
It allows you to manage the admission of all the students easily along with student's basic details, family information, previous school details, birth certificate, and report card with passport sized photo. It makes the entire admission process of students for each academic year in specific stream, medium, standard and division simple and effective. Accept/ Reject student admission. Storing student's previous school history and certificates. Automatic transfer of student details to school register/records without any paperwork. Full view of the student's admission forms with photo; generate customized reports to get statistics of student admission.
Student details management
It allows you to manage all the academic, personal, family, previous school details along with passport size photo, login details and other details are stored securely in a centralized system. Centralized GR No, to keep track of throughout his academic career in the school. You can search details of particular student using his name or GR No. Keep track of every student's information like attendance, assignments, marks, discipline etc.
Staff details management
It allows you to manage all the details of the staff like personal, educational, login details, salary structure and leave granted. Facility to freeze/unfreeze staff members in case they leave the school.  Bulk updation to change no of leaves for more than one staff person at a time. Saving time and efforts.
Attendance management
To maintain an attendance register of students and staffs requires a lot of effort and accuracy. This software offers features to keep a record of attendance inside the system eliminating manual effort consuming task. As it is linked with the school academic year there is no need to fill attendance of school holidays, vacations and sundays. You can manage attendance of students and staff from one place.
Time Table management
It is the most tedious and effort consuming task for the school staff. Each class has a distinctive timetable along with specific subjects and subject teachers. It helps to create timetable for students of each class easily and effortlessly. You can design different time slots for timetables of different standards as per need. Edit and change time table whenever the need emerge. Students can view their timetable and teachers can see their whole day time table.
Exam management
Examination are tough and busiest for each school, this software eases the task of examination processes in schools. This module configures number of classes, subjects, languages and types of examinations, User can define grace and exam rules, it minimizes human errors.
Library management
It manages all in-house operation of the Library, from acquisition of materials, books and periodicals, to its cataloguing and maintenance. Librarians can manage library data efficiently. Students can borrow and return books through a methodical, organized system. It is powerful and easy to use.
Fees management
Fees collection and management are crucial operations for the schools. Our software helps in managing the operation of fees collection and receipt generation easily and quickly. It automates the fees receipts entries in the school accounts eliminating the need of repeated data entries. Fees slabs are define with different ranges like quarterly, monthly, half yearly, yearly. Facility to collect fees in parts and maintain the due remaining amount. Easy record the cheque no/ cash notes received in fees. Generate and print fees receipts with receipt no. direct link of data entry on receiving fees to accounts remove double data entry.
Inventory management
It allows for both item and vendor management to handles purchase of goods across all departments. Save your budget with a more efficient means of managing your school inventory. Circulation and tracking tools, equipment's make it easy to see where resources are at all times. It supervises the inventory of lab, stationery, library, vendor and miscellaneous inventory.
Hostel management
It allows you to manage all the necessary details of the school's hostel efficiently. Allocation of different rooms to different students, records of ins and outs, hostel consumables and durables, generate customized reports for further reference.
Transport management
It allows you to manage entire transport system of the school, manage route and route stop, integrated with Google maps to easily define bus routes. Stop and route allocation to students, staff and teachers.
Payroll management
It conducts every role linked to payroll of employees, calculation of salary, deducts incomes and calculates refunds, deductibles, produces pay slips and much more. It is effective in distributing the right wage to the full time employees.
Activities and event management
It allows you to make a list of all the upcoming activities in the school and also to manage them. The concerned person can add all the yearly activities to the list, keep a track on the upcoming events, all the activities are added to the academic calendar, students can see all the yearly activities.
ID card generation
It automatically generate the ID cards for school students and staff members, and saves a lot of time by eliminating manual entry of the students and staff.
Certificate generation
It allows you to generate certificate for schools students and staffs easily, without any effort. A copy of the generated can be stored for future reference. It has a facility to print the generated certificate.
Why SSTech System is Unique as Your School Management Software Provider?
We are with you at every step of the way, whether you are a small institution or a very large school looking for good and affordable school management software. Our powerful software not only helps you to achieve your overall goal but also provides confidence of having a reliable and secure education technology company in partnership. We will guide you through the entire process and documentation of our software; we transfer or enter your data to software, while optimizing data quality and offer training and support to employees, parents and students throughout the transformation process while improving your new technology experience. You can even request customization of our software to fit your educational pattern and our team will work out your amazing requirement in no time.
We are one of the best quality educational software provider company, and we assure you that our services will surpass your imagination. Our team of skilled and experienced professional have regular and smooth interaction with clients, on time delivery of projects and guaranteed satisfaction.
Migration is simple.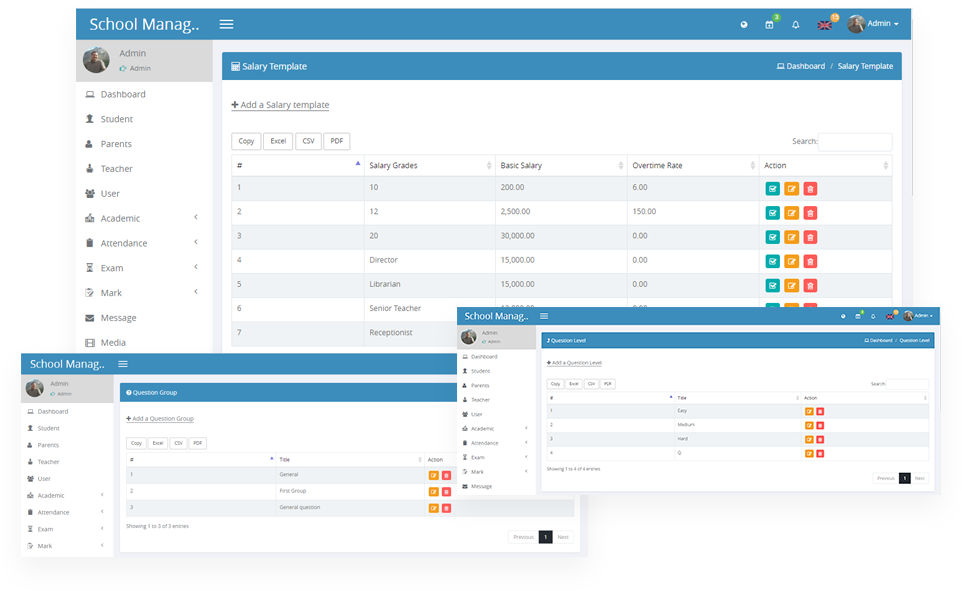 Integrate all your school's information systems into a comprehensive technology platform can feel like a big step. You don't have to. Follow our simple steps to simplify the experience.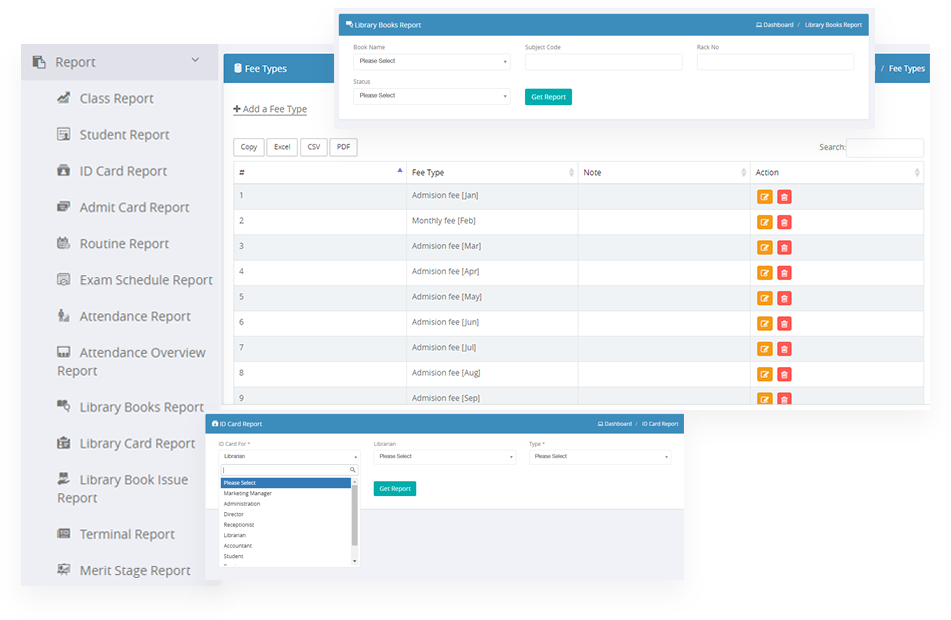 Step 1: Book a demo
Compare our school management platform to other in the market. Get all your questions answered and discuss how we can really serve your school.
Step 2: Let Us Migrate Your Data
Give our professionals your report cards, transcripts, student, parent and staff data. We will analyse how your school operates and prepare the data for conversion, insuring all your school's information is properly installed. We fully customize your experience with a setup tailored to your school's needs; we even use your own school's terminology.
Step 3: Receive Training
We don't just install your platform and go away, We will train you and your staff on your platform so that integration is seamless and efficient. We will also provide continuous online support and upgrades.
Step 4: Enjoy Using SMS
Deploy SMS on to your school's website. Issue logins and share with your community all the benefits they get from using SMS.
Our Products
For Excellence
Software designed, build for possibilities and inventing better future.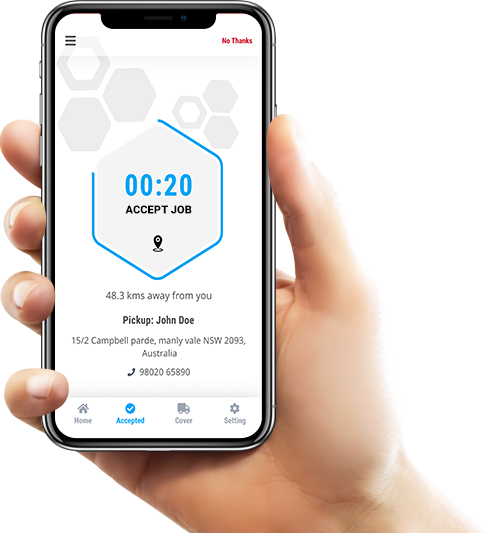 A perfect
business
companion/partner
We deliver products that effortlessly manages your business, run fast, costs less and a real time solution.
Your inquiry is precious to us. We will be delighted to help you in your queries. Our customer care representative will be back to you shortly within 24 hours and would be delighted to do free analysis of your requirement. For prompt reply please contact us on Phone No: +91 87 80064339 or Skype: sstechsystem. Otherwise we will revert back to you on your email. Until then make certain to have a look at our resources blog, portfolio, products