OTT App Development, Cost, Features & Tech Stacks
---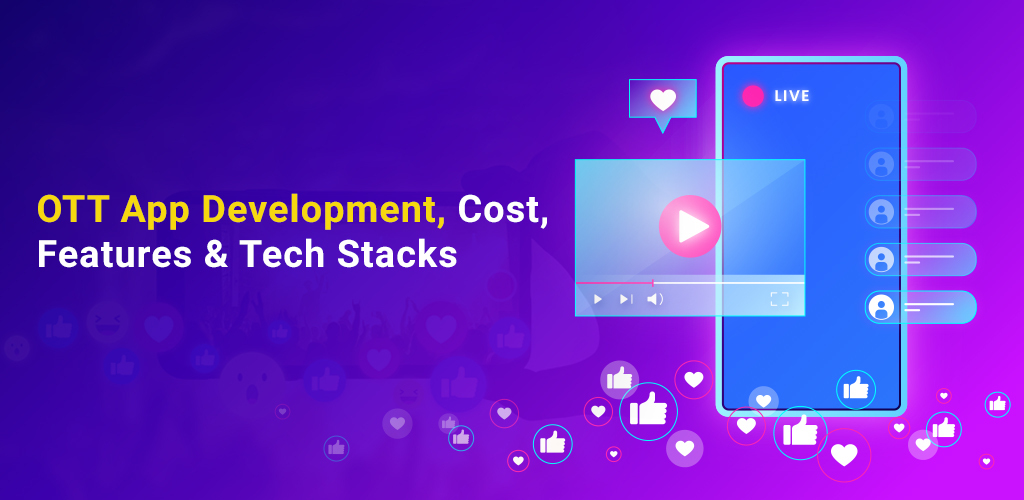 "Just another one episode" this phrase has become a part of our daily life. With the recent advancement in technology, there has been a drastic change in people's lifestyles and the way they browse the channel of entertainment. Just like spending time on Facebook or ordering food on Zomato. The whole credit goes to Netflix. Nowadays with the on-demand video streaming application, our entertainment experience has reached the point where we can't even think about a day without binge-watching on Netflix. It has brought into new types of content and gives us related facilities of thoughts, situations, time periods, and cultures. All type of entertainment is available on the internet with the accessibility of using mobile phones, tablets, laptops, and smart televisions. So here comes the role of OTT App development. If you are planning to build OTT based application, we are here to provide statistics, main characteristics, costs, monetization strategies, and other information to assist you in developing the OTT app.
What is the OTT App Development?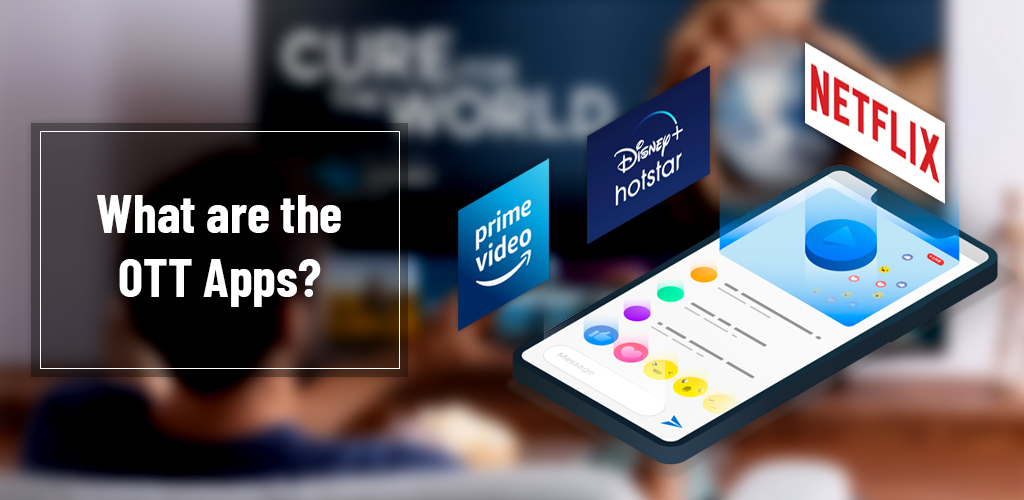 OTT is the short form of "over the top", so the concept of the application allows users to stream video content with their smartphones, tablets, or smart TV devices over the internet. It removes the need for using cable or satellite subscriptions.
How you can build an OTT Video Streaming App
This is how you can get started with OTT video application development
1. Decide on a specific niche.
Before you begin to use OTT platform app development services, you need to appear at the niche for which you will be offering a video streaming app. You need to decide the target audience of the app. Do you want kids to view your app or adults or do you want all types of audiences to use your app. providing a specific niche will help you better strategize your marketing campaigns?
2. Build your content repository:
You need to gather all the content you wish to present to your subscribers. As the content is the foundation of your OTT app it must be built on a systematic basis, even after the app has been launched. It must go on growing to keep the users glued.
You need to decide regarding the content in your app.
How regularly you will update the content?
Will the content be delivered in parts or whole?
Will your content be free or chargeable?
In order to have access to the specific genre will the subscription rate change?
Will you fix the price based on the number of videos watched?
How much will be subscription fee?
Are the users be allowed to access only selected movies per month?
3. Choose a Business Model
You need to decide on a business model, as creating the app to generate some revenue and not for social service. Thus you have to decide how you plan to earn from the app. There are two types of business models offering OTT platform app development services.
Advertising-based subscription.
Transactional model.
Your app idea or vocation will pinpoint the type of model to conduct business.
SVOD: With a subscription-based video app, the user is required to pay a specific amount each month/year to access the video content.
AVOD: Advertisement-based video-on-demand model, users don't get charged a nickel. However, the app owner can earn by charging the advertisement companies that wish to advertise products. The app is designed in a way that users are compelled to see the advertisement. The app owners generate revenue by charging advertisers.
4. Develop a Website
You must create an OTT app development to let end-users know that you are launching such an app. Many users still use a web browser to watch videos. Establish your business identity and also let users use your services through a website. It is very important to gain fame, trust and manage payments with ease.
5. App development
After following the above steps, you need to hire a good company after research that furnishes OTT app development services. A team of talented developers and designers can help you transform your dream idea into a reality. Choose SSTech System the fastest growing IT solutions provider company in India and Australia that offers quality services within your budget. You need to build your content library, decide about the business model and then create a website to market your app
Best Practices for outsourcing OTT App Develop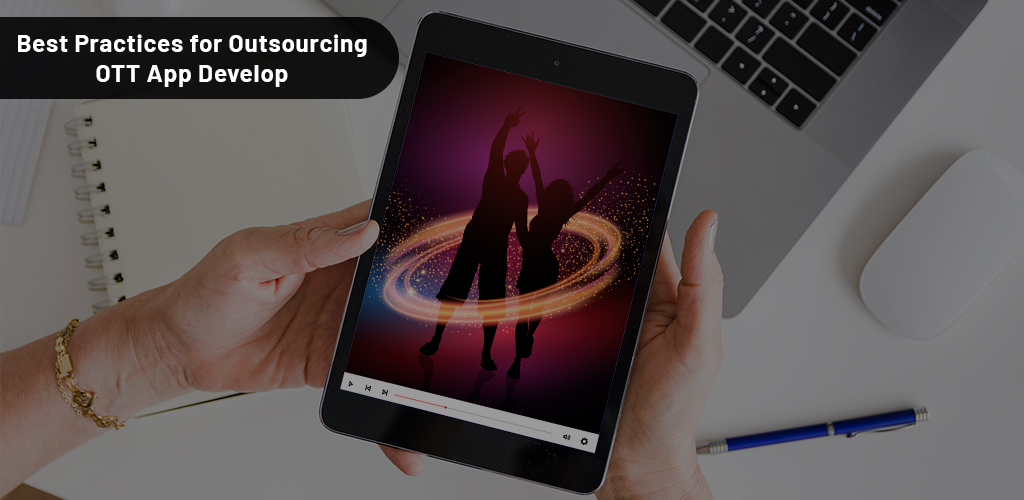 Outsourcing is something critical and could sound scare. These are some of the best practices that help you to successfully outsource OTT app development.
Eyes on the prize: Companies can stay ahead of the unavoidable commoditization of a market. It says how you innovate and add value to the process of building a product.
OTT development team should streamline content management workflows. It should ensure the platform promotes relevant content to customers. Make it easy for customers to migrate from AVOD offerings to SVOD services.
Drawing the line
You can divide the labor into software projects and platforms. These are the things you can hold on to are, the backend keeps investing in process efficiencies, the user experience, your brand customers, and the connection between your media and your customers. The architecture of your applications, content feed, analytics architecture, and what are the backend components to capture revenue.
Doing the work
OTT outsourcing partner can work with the principle of your app strategy, question time after reviewing the existing code, the backlog for the initial sprints of new work you are transitioning.
Be open-minded
OTT outsourcing partners will express what they will need from you to integrate their team with your project successfully. Outsourcing relationships rarely fail because the software platform that they work with is technically complicated.
Do it yourself
If you like total control over their platform, then you need to consider, do it yourself approach. Invest in courses to develop an OTT app from scratch, launch it on your chosen platform, and maintain the app's performance.
OTT App Features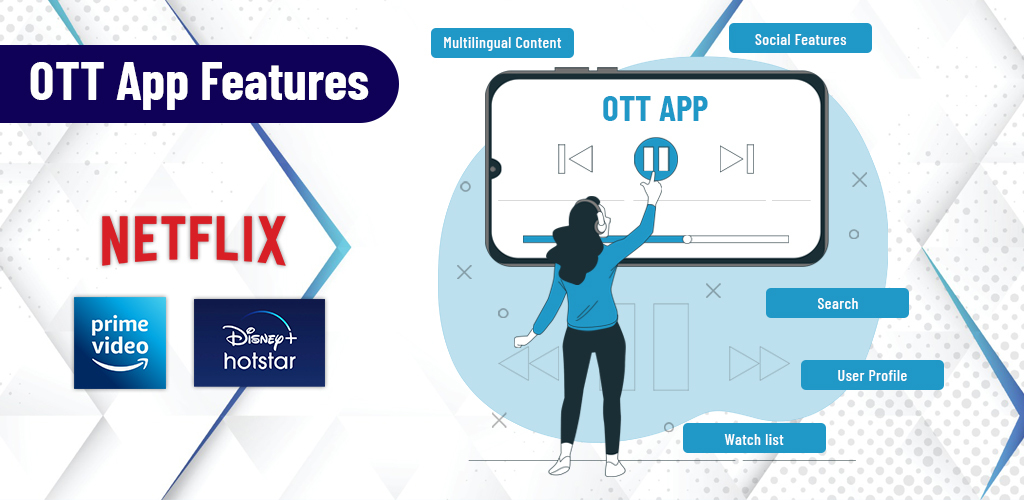 Multilingual Content:  If you want to have a live streaming application for a wider audience around the world, then it is very important to infuse content of more languages apart from English. Get the maximum engagement from OTT video application that you look forward to having.
Search: Based on the search option in OTT video streaming application, you will be able to look for your favorite shows without any kind of hassle. This option allows looking for the content with various filter options.
User Profile: These apps come with the feature of one having their own profile, and can have complete access to their account. It allows the user to watch the content according to their subscribed program and needs. It gives users their own set of features.
Watch list: The amazing feature of OTT video streaming applications, is that, it allows users to tag the content that they would like to watch later whenever they are free. They just need to go to notification and catch the respective content with ease, without searching for it again.
Social Features: These features play a huge role in OTT app development service. This feature can completely change the experience to relish your favorite content time and again. It will allow the application user to meet the target of daily active users with ease by sharing the content. The users should be able to log in to the applications with the help of social media provision for a better experience.
OTT Platform Development Cost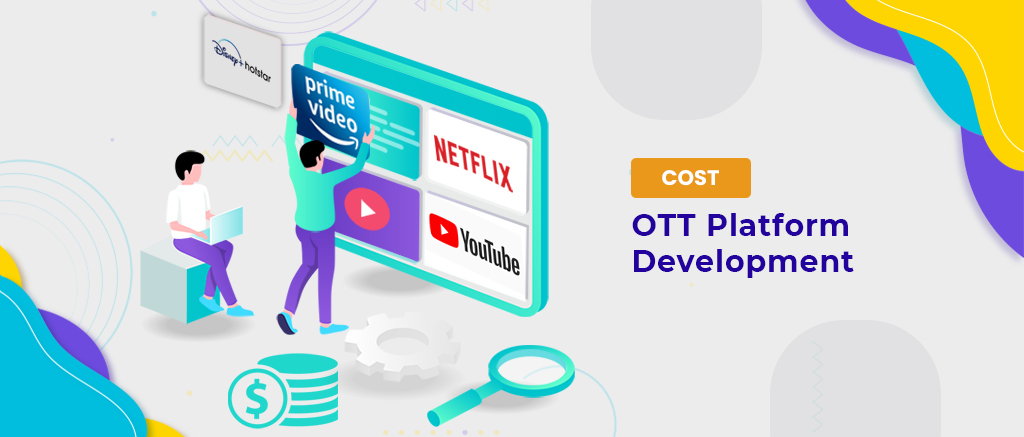 When considering the cost estimation of OTT video application development, the following are the wide range of factors that it depends on.
A number of attributes that you use in your application.
It depends upon the platforms, the respective live-streaming application will be working upon.
It depends on the geographical location of the company that will help with your development needs.
OTT platform app can roughly cost you between 40K USD to 50K USD in the USA, and if you are looking to get it developed in India then it will cost around 15K USD to 25K USD.
How to Start OTT Platform in India
The followings are the step you need to follow to launch your own OTT Service.
To create your Video/Audio streaming website need to sign up.
You need to upgrade with your favorite monthly plan.
You need to customize and configure your OTT Platform without coding.
From the CMS, you need to upload the content.
A monetization model can be set up.
White-Label OTT App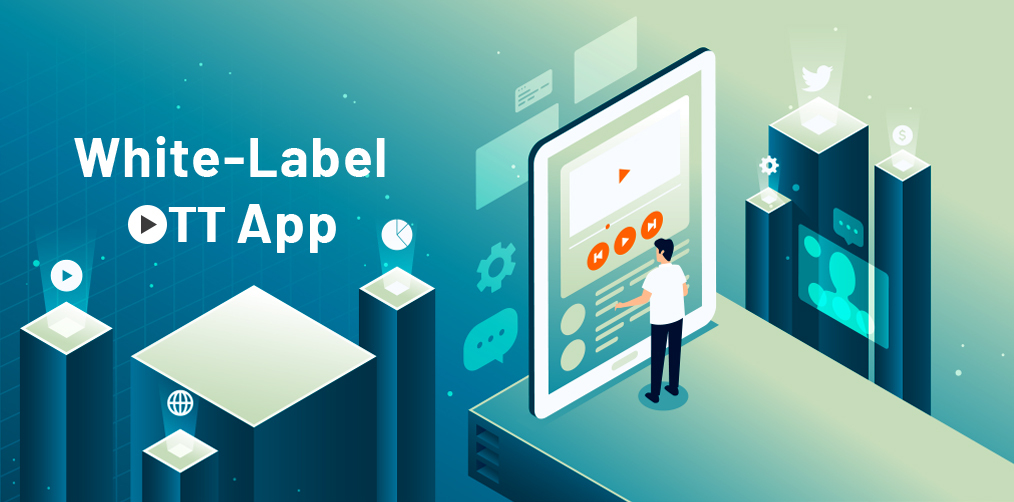 A white label OTT App is a streaming service to uses a custom video player that reflects your branding rather than third-party branding. A marketing agency that specializes in video production creates videos for another company right from conceptualization, production, editing, to rendering, and then the purchasing company uses or offers the video with their own branding. The white-label app is manufactured by one company and is sold to other companies to be repackaged and sold with their own branding.
Do you want to create an app-based platform or need guidelines on how to create an OTT app development from scratch? Reach out to us, as we are rapidly growing our Platform Development Company In India, will provide a complete furnished solution, for your skyrocketing OTT app development platform with increased revenue-generating strategies all with premium content.