8 eCommerce Development Trends for 2022 – that can be a Game Changer
---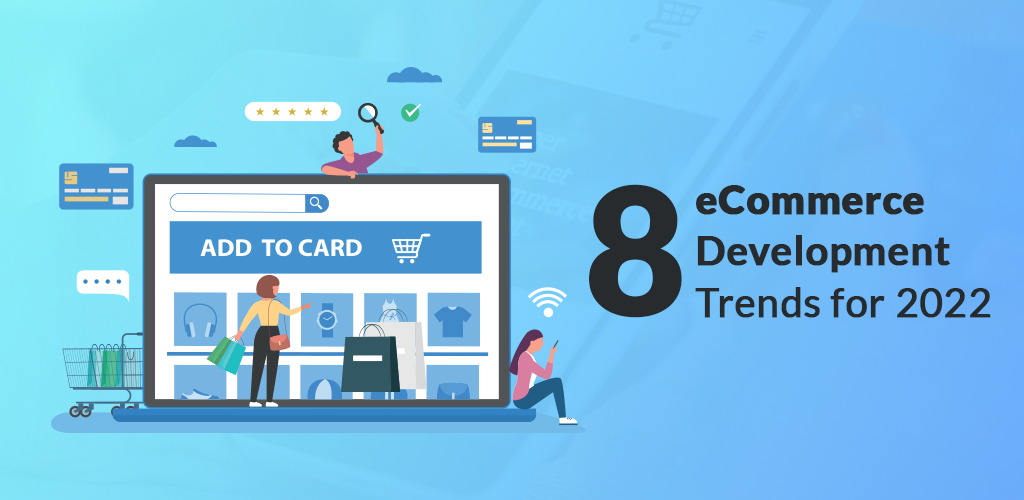 Have you ever imagined that you can do shopping while doing laundry or while watching TV, now you can do your monthly grocery shopping while listening to music, and try on dresses before you even buy them! Doesn't this sounds amazing! Here are the 8 eCommerce development trends.
The eCommerce development trends have changed in recent years, with the technological transformation and advancement, widespread challenges with supply chains, logistics, and warehousing among others. The online shopping demands of people right from purchasing books to clothing, to groceries have changed with the smart devices, these products have been delivered to the doorsteps within just a few clicks, often the same day with express delivery services. In the last two years, business owners and marketers were on their toes to deal with challenges thrown by the global pandemic. For Online retailers, e-commerce brands, and online store owners, 2021 was a fantastic year as consumers flocked to these stores to keep themselves and others safe from the pandemic through video shopping, people buying with purpose, authentic brand content, the emergence of the sales. As more people make their purchases through phones, the mobile e-commerce market has grown by 68%.
The eCommerce development trends COVID-19, have proved to be disastrous for some businesses, but for the e-commerce industry delivering goods and services to their target market was smooth sailing ahead. The COVID-19 recovery was digital. To delight their customers, engage visitors, generate sales, eCommerce entrepreneurs keep an eye on the latest eCommerce technology trends.
Let us have a look at the game-changing e-commerce future trends that are the most promising, to shape every e-commerce platform, online retailer, social commerce that will dominate.
Top eCommerce Development Trends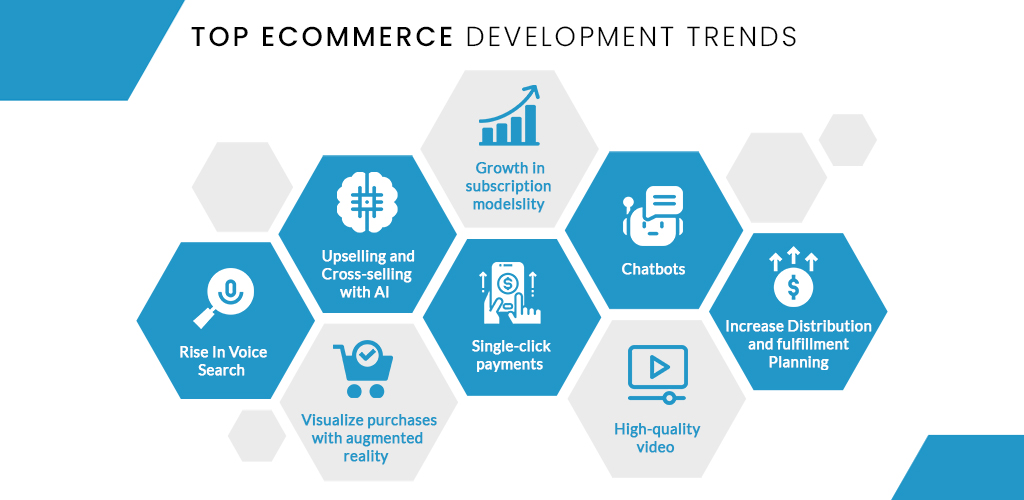 1. Rise In Voice Search: 
There has been a tremendous increase in voice assistants on your phone, home smart hub, and even on the TV remote control. Voice search is gaining popularity, which directly influences search results and shopping outcomes. To optimize the future trends in e-commerce sellers must remain aware of changes in search so they can enhance their future sales. You need to ensure that your eCommerce site is improved for both mobile voice search, that is prioritized with the information that people seek for such as website, contact number, physical address, and business hours.
2. Upselling and Cross-selling with AI
The shopping habits of customers can be well-predicted with the help of artificial intelligence and machine learning. AI can customize a website for every unique visitor, which no human brain could do. There is a volume of data for a few retailers that require AI, ERP, and CRM systems which include machine learning features to assist in cross-selling and upselling.
3. Visualize purchases with augmented reality: 
With the help of this technology, customers don't have to guess what the new sofa would look like in their living rooms, they can easily visualize it. By adding this technology on a phone or laptop they can see a live video of the room with the new addition. Likewise, it goes for artwork, flooring, and many clothing items. To encourage customers to virtually "try on" a product, augmented reality is appropriate.
4. Growth in subscription models
Subscription models prove successful online and many business savvy are finding new ways to turn products and services into subscriptions that keep customers loyal for months and years to come. A subscription's success needs a long-term mindset and a close eye on unit economics, technology use, and the transition from customer support to customer success.
5. Single-click payments
Single-click payments will make everything as simple as possible. It will become common globally and garner interest from online stores. It will save customers from the inconvenience of re-entering their credit/debit card details for every purchase. It will increase conversions and reduce cart abandonment rates.
6. Chatbots
Chatbots are indispensable tools nowadays, it can help you save a lot of money on customer support and engagement in the long run. This eCommerce trend might be able to help reduce business costs by up to $9 billion in 2022. Chatbots integration will make your customer support desk operate 24/7. You will be able to fetch useful information for your eCommerce business strategy related to queries, problems, and products as mentioned in the Chabot conversations. It lightens your customer service workload, improves the customer experience.
7. High-quality videos
As per Ninja, 66% of people prefer to watch a video to learn about an online product or service instead of reading a lengthy description. So deploying high-quality videos to your eCommerce website or mobile application is a trend in 2022. Boost your business with high-quality clips to your online store. Add videos related to product close-up, overviews, tutorials. Showcase your products, identity, and team.
8. Increase Distribution and fulfillment Planning
Today's customers want purchases in their hands as quickly as possible, they may go elsewhere if your delivery estimates are too slow. Gain big profits with multilayer distribution models, hyper-optimized supply chains, and software-assisted fulfillment.
 Wrapping Up
The eCommerce industry is continuously evolving as per the customer's needs. These emerging trends make a customer's shopping experience easier, seamless, and more enjoyable. It is the right time to digitally upgrade with the latest eCommerce development trends, when we move into the future there will be more changes in the way people interact with brands, make purchases and deliver goods.
SSTech System is one of the leading eCommerce app development companies in Ahmedabad, India that provides an affordable reliable solution to your all eCommerce need.