How to Design an On-demand delivery app for Your Business
---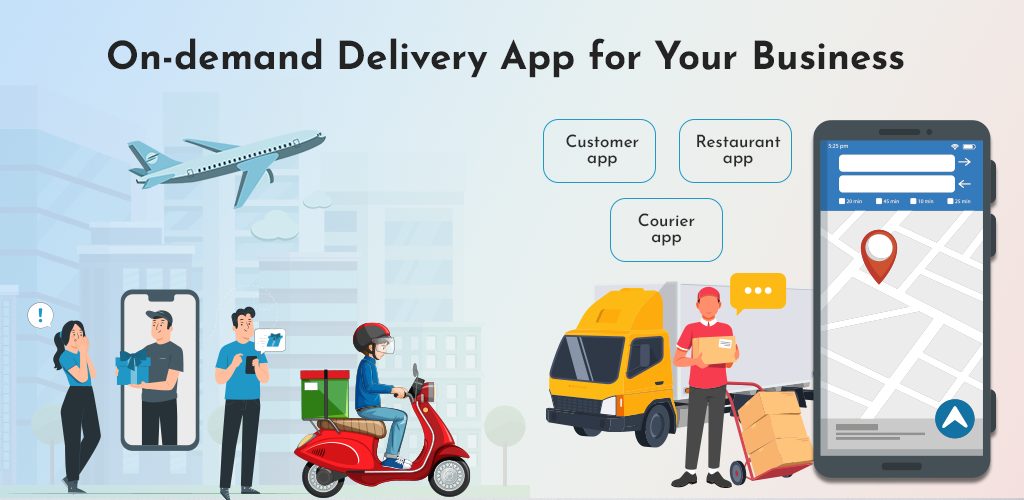 The on-demand economy has been gaining more popularity in the past few days. Of course, people use online shopping and order many things via smartphone. However, technology is growing, and everything will come at the fingertip. Today, consumers use the On-demand delivery app to get anything in a short time.
The main reason is the widespread Coronavirus worldwide. So, there is a sudden increase in on-demand apps. Likewise, business owners are keen on designing an On-demand delivery app for their successful business. In this blog, you will learn how to create an on-demand delivery app without trouble.
What is an on-demand delivery app?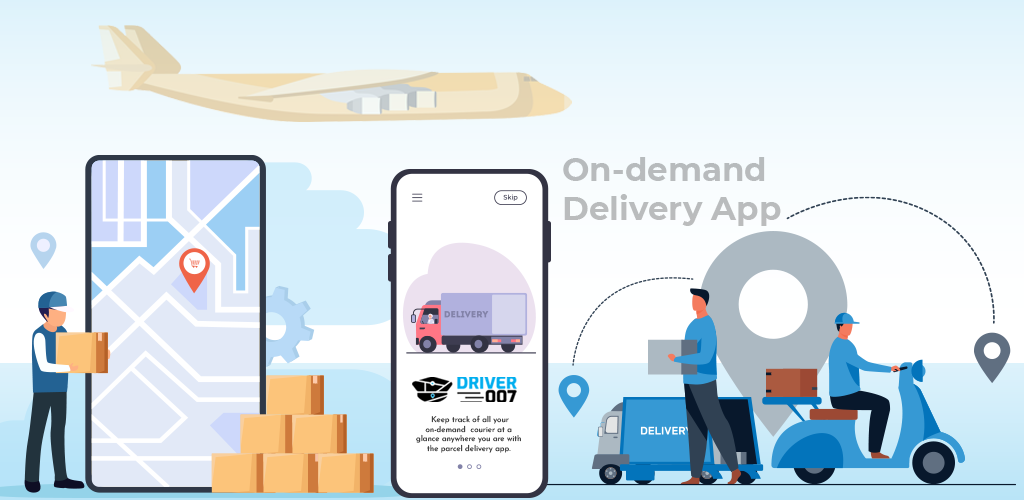 The on-demand delivery apps allow customers to order products whenever, anytime. In a single app, customers shop for the goods they want to purchase. Of course, it is the most convenient and flexible online shopping option. You can explore more products to order with a single click with a single app.
Steps to design an on-demand delivery app
If you are willing to design an on-demand delivery app for your business, you should develop an entire ecosystem. To make the platform work well, it includes parties and discovers an on-demand app for a successful business. The design of an on-demand app consists of 4 phases.
When you create an on-demand app, you must know about what are on-demand delivery apps to know:
Customer app
Restaurant app
Admin panel
Of course, on-demand app designing includes various features. You must know the features first and design the app for your business.
Let us move on to the steps to successfully design an on-demand delivery app for your business: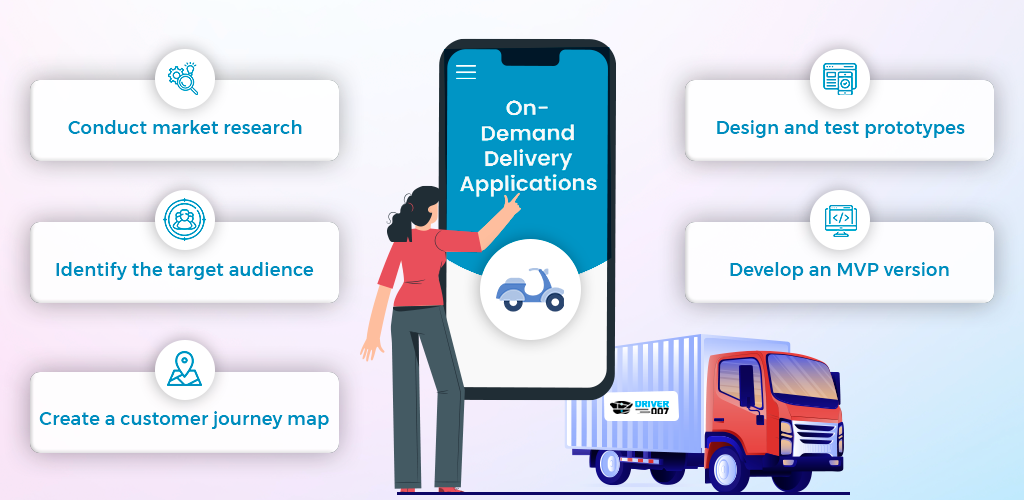 1. Conduct market research
In the initial execution flow of an on-demand app, you must analyze and conduct market research. You have to understand the market and what customers need deeply. Apart from this, you must study your competitors carefully.
Creating a food delivery service must gather information about customer needs and trends. It would help to analyze the strong and weak sides while designing the on-demand delivery app for your business.
Goals and mission of the company
Target audience on service
Fulfill the user needs and understand the importance
How to monetize using the platform
2. Identify the target audience
When you create on-demand delivery apps for Android for your business, you must also know your targeted audience. Of course, the audience is significant for every business. To keep them in mind, you can create more personalized solutions and gain more users. An employee can connect with an account and pays for the ride for the delivery charge.
Each group has specific needs, and you must understand them in mind. While designing an on-demand delivery app for business, it has to examine the customers deeply. They usually order products with home delivery. So, your design must fulfill the delivery platform.
Apart from this, preparing a schematic portrait for your customers is exemplary. While designing an on-demand delivery app, entering a location, food preferences, orders, and more are essential.
3. Create a customer journey map
Customers are assured to check the delivery partner route and how they reach the doorstep. Hence, it includes lots of steps to connect with customers. Before designing an on-demand delivery app, you must develop a customer journey map.
It stands for the journey via the app from a user's point of view. You must enter the delivery address and note it on the map and menu list. You must understand the app's logic and design to use the maps conveniently.
The format of an on-demand delivery app includes the following points:
Informing
Ordering
Delivery
Receive
Feedback
These are the basic ones to consider in mind about on-demand app design. It applies to all sectors, and the platform is the same for all with little changes.
4. Design and test prototypes
When you create an on-demand delivery app for business, you must understand the types of on-demand applications well. If you create a prototype of the service, the design must follow the prototype of the business need. It considers an interactive model which shows particular results as per the actions.
A prototype allows showing the products and concludes app designing. It will represent the app interface and functionalities while giving priority to users.
5. Develop an MVP version
The minimum viable product includes significant features and needs to take users with an essential fulfillment. Of course, MVP allows users' feedback and updates by focusing on product expectations. Building an MVP on-demand food delivery app takes entering the market with a comprehensive solution.
You must prefer the best technology, and it must also be promising. For designing most on-demand delivery apps, web developers use flutters app development. With a single codebase, you can create cross-platform apps.
Main benefits of on-demand delivery apps: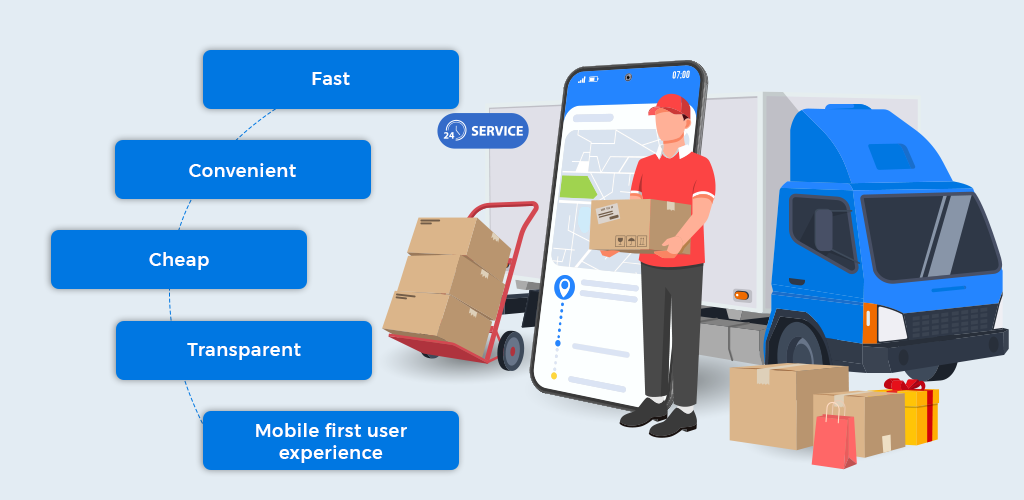 The main functionalities of using an on-demand logistics app will match the customer's demand completely. Of course, it includes the fastest way to buy and reach products. Speed and convenience is the main thing to consider in mind.
Fast
Cheap
Convenient
Transparent
Mobile first user experience
How to monetize an on-demand delivery app?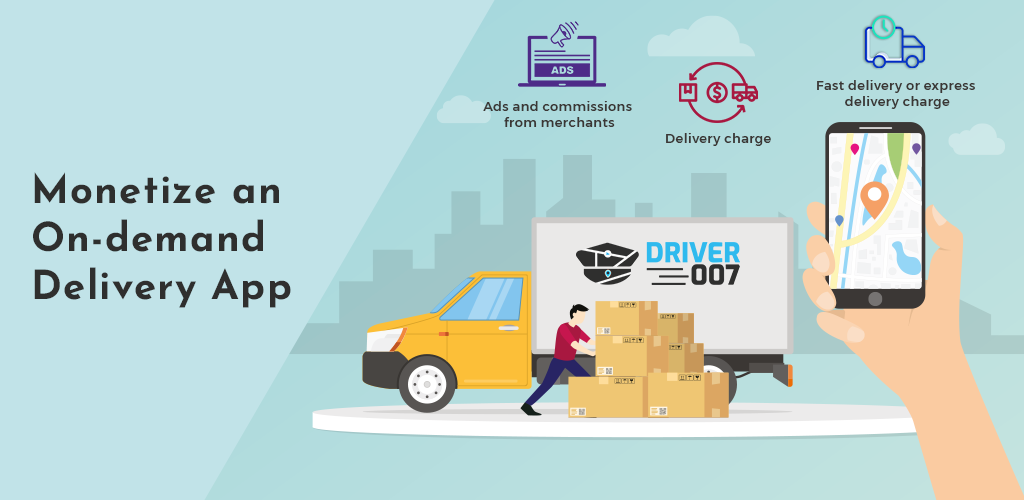 After creating the best on-demand app, you must start earning income from the app. Using the appropriate monetization model includes plenty of strategies to choose from and ranges from general to specific keywords. Let us see in brief.
This is the most common strategy to earn income for on-demand apps. When the customer orders the products, you must set a delivery charge. So, it gives a steady income on delivery charge income.
Fast delivery or express delivery charge
When customers hurry to get their products, you must set a price for the express delivery option. So, the services will reach customers faster as possible. During busy hours, you can unlock the offers for additional payment.
Ads and commissions from merchants
If you start a grocery delivery app, you must post some ads about the business. On the other hand, you must get a commission from the merchants who joined their company into your app.
Conclusion
Thus, SSTech System is a top-notch team that always designs an efficient and market-ready on-demand delivery app for your business. Professionals and on-demand app developers will understand your requirements and create an on-demand delivery app within your budget. So, hurry up and get the quotes for the delivery app.