Driver007 is a unified platform to manage all delivery and logistics operations. It optimizes last-mile deliveries while transforming customer engagements for businesses across many industries. Our solution offers dashboards using algorithms, auto, route analysis, and optimizations, real-time communication with customers, and drivers to facilitate seamless deliveries. It brings business online within hours, improves customer engagement with real-time delivery tracking, driver delivery history, customer history, driver's rating, digitized signature copy of the customers after delivery, etc. Provides overall business statistics using different statistical reports.
Benefits of the on-demand delivery platform
Fast courier tracking in real-time
Courier tracking is one of the biggest challenges of delivery businesses, they are bound to keep track of the parcel until it reaches the destination, in earlier times, companies used to stay in touch with the driver of the shipment to know the status of the parcels. However, with an on-demand platform, they can easily do this task and customers can also track the status of their booked parcel to estimate the exact time of delivery.
Today's customers look for a secure, quick, and easy way to proceed with the payments. By integrating multiple payment methods like a credit card, Paypal, wallet system, etc. in the on-demand app, companies offers  various transaction ways to customers. The online payment feature also helps to monitor and manage all transactions, eliminate the apprehension of delayed or failed payments.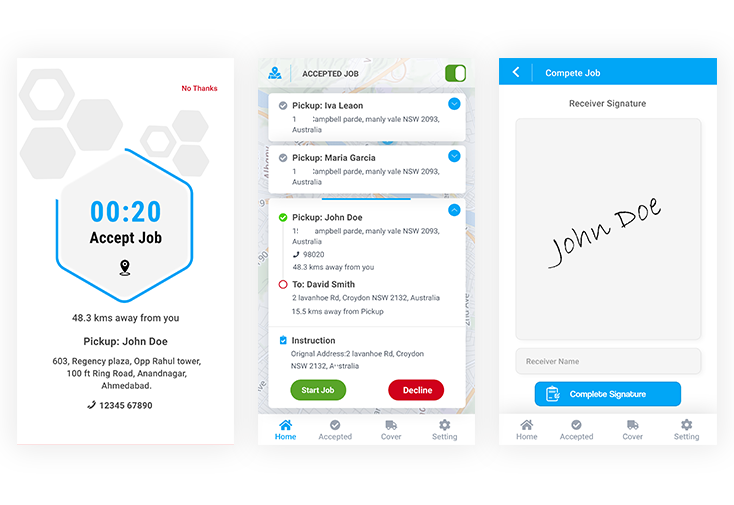 Timely updates through notifications
It requires attention to transfer a product from source to destination, the app instantly notifies you if the drivers face some issues in the process, you can even update your customers with every checkpoint of your delivery service including, order received, pick up, underprocess, dispatched and delivered, etc. by sending push notifications. The more the customers stay updated, the more valued they feel.
Courier business revolves around paperwork. Every product that is delivered comes with a ton of paperwork, which is hard to handle. However, an on-demand courier app significantly reduces the paperwork by storing every piece of product's information and keep its track until it is delivered. The mobile app automates everything and saves up a lot of a hefty amount of money on stationary.
Boost customer satisfaction
No matter what business do you do, customer satisfaction should be your primary goal. An on-demand courier delivery app provides the convenience of creating a job from any location and ensure that the customers don't face any issues. besides multiple payment options, along with the tracking features, facilitate everything for the customers and gives them a sense of satisfaction. Options of reviews and ratings make you familiar with the aspects you need to improve in your delivery process.
Easy to use admin panel that is accessible from any modern browser and is intuitive to use.A single dashboard that connects multiple users, delivery executives, and admin of the company to manage the overall business activities. Company admin has the right to control the website processes such as job creation, track delivery activities of drivers, payments, can also change the settings if required. Admin can get site statistics of users, online drivers, carriers, and drivers. Job statistics of total jobs, completed jobs, running jobs, latest created job, total revenue earned. Driver performance, activity analysis, and map views allow users for instant decisions.
The company management module gives flexibility to company admin to create new users, delete users, verify driver's documents for smooth onboarding of drivers. Each company has its dashboard statistic with different kinds of data shown based on their daily activity. Company Admin will have complete control over the order and delivery team. Admin can create job and has the liberty to assign the job for picking and dispatching, delegate multiple jobs to a company as well as individual driver and do much more.
The driver management module allows admin to register any new driver and can modify the existing driver details. when you click on add new driver button it will redirect to driver form where admin fills the new driver information and save the new driver data. Admin can keep track of driver's activities, store all the details of the driver along with driver's licenses and other documents, by adding drivers, and their background checks you can plan control who is eligible to drive. Admin can also register company drivers from the company driver list dropdown and save new company driver data in the system. Admin can also manage commissions, incentives, earning.
The individual creator management module allows the admin to register any new individual creator on Driver007 and also can modify the existing Individual creator details from the list. When you click on add new individual creator button it will redirect to individual creator form, admin has to fill the information and save the new individual creator data into the system. When you click on details button a modal popup will show you particular individual creator related all details, including its details.
Accounting billing setting menu allows the company to add job credit through credit card payment when any company pays from the account, successful credit will be added to his wallet and will be reflected in the Total credit section. The company payment transaction page allows the company to see the list of payments done by that company for credit recharge. You can search for data record date wise with the help of a filter.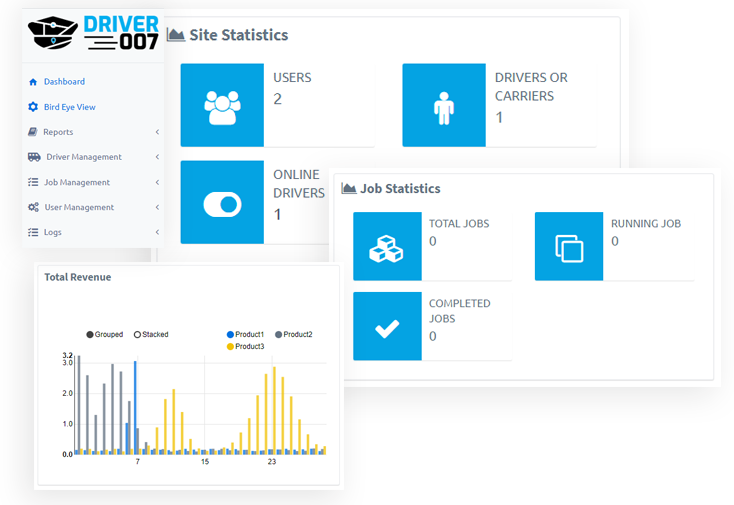 In job management module company admin can create, modify the existing job details or can delete job for the drivers, assign jobs, check the status of the job from creation till delivery, search, filter created job, cancel, and completed job. When admin clicks on to create a new job button it will redirect to job form where he can fill the new job information and save the data into the system. He can also edit and modify the existing job created. A pop will show particular job-related information including sender and receiver details, current job status, and other job-related details. Under the individual creator job menu, a list of jobs related to individuals will be seen, it will show the details of the sender, receiver, current job status, and other job-related details.
The admin panel allows the company to manage parcel shipping and handling costs. You can calculate fair charges for each delivery. To get the estimated fair enter required details like company name, country, state, vehicle, pricing, commission, tax, size, description of goods, etc. for standard or express delivery. Inbuilt price calculator will show you estimated delivery fare charges.
Easy onboarding of driver
The Driver007 app is intuitive and easy to use for delivery personnel to carry out tasks. The driver onboarding process ensures certain safety, legal standards and the right personality fit for the company. For registration, drivers need to enter all required details and upload documents like driving license, photo, other documents, etc. Admin will verify all the details, and if found authenticated, then approve the driver's profile. The verification process ensures that all the registered drivers are authenticated.
The drivers are the core resource for delivery. Their service counts in the business goodwill, thus they have been given an authority to accept or decline the job within a given period. Online drivers can view upcoming job notification. Once the job is accepted by the driver, he will get details of the pickup and dropoff location. He can start the accepted job or can decline to cancel the accepted job. The driver can process with the multiple pending jobs for the nearby location with pick up and dropoff details.  Google Maps, Google places API integration helps drivers to identify landmarks, take the shortest possible route, and view their advancement towards the destination every second.
The app provides delivery drivers with their completed job histories, customer contact, performance, earning, and other related statistics on their screens. When the driver clicks on a history menu from the setting screen, they can see the list of their completed job, they can filter and search jobs, they can even see the list of the scheduled job. All the information regarding total no of a job accepted, cover jobs,  delivered orders, their earnings per day/month can be accessed at any time.
Customer will be notified immediately when order is assigned, they can track order status. Drivers can collect proof of delivery from the customers in the form of a digital signature. Or by taking a photo of the delivered item, and location, if the attendant is not present. This way delivery will never be missed! Thus enhance customer's delivery experience of receiving and acknowledging their delivery. It increases operational efficiency with the quicker onsite procedure and simplified internal communication.
The driver can earn silver, gold, and platinum rewards point based on customer reviews and ratings of the service out of five stars. The customer also gives feedback. Once the driver clicks on my reward button a new screen will appear with his reward history, list of reward earned on the job given by the customer or company.
The driver can refer this app to friends, relatives, and earn bonuses after the referred driver has completed a designated number of trips. When the driver clicks on invite friends menu they will see the list of sharing options like WhatsApp, Facebook. Twitter, Gmail, Message, etc.
Drivers can take real-time routing decisions, which save time and fuel for more efficient deliveries.
The driver can add more than one vehicle from the setting menu, he can see the list of the vehicle set up by him and can enable one vehicle at the same time. He can capture daily walkaround vehicle checks, report defects, and resolve issues.
Payment history and withdrawal
Drivers can see their earning on daily, weekly and monthly basis. And even withdraw their money anytime without waiting for long.
Drivers can view their order history with total numbers of trips, total distance covered and total duration online, total rewards points that they have earned.
Retailer's App Features
Individual User Registration
A simple and easy registration by company, individual, and retailer entering all the required details. They can log in with their email and password. The user can easily manage their accounts.
Our delivery app keeps customers informed about the progress of a delivery process "Picked" "Intransit" and "Dropped". This tracking solution feature builds trust among the users for the app and allows them to track the status of their order and ensures fast reliable service. This status gets updated into the tracking database in real-time and when the driver changes it.
Our delivery app is simply connected across all the three user touchpoints, admins, drivers, and customers to make sure all the notifications are received in real-time. Delivery status, location status is informed to appropriate users via push notifications.
Customer can schedule their order in advance as per their convenience. They can select a delivery date for their order.
Customers can give feedback via reviews and ratings for their service experience of each delivery and can rate the app as per the overall functionality of the app. The feedback will be collected by the drivers at the time and place of delivery from the customer.
Retailer, Individual, or Company can create a job by selecting vehicle type, package, unit, and entering height, length, width, weight. They have to select a payment method for online payment and estimated price will be displayed. Once payment is done he can create a job.
What businesses can gain from the Driver007 app?
With Driver007 parcel delivery dispatch software in place, your company can accomplish loads of things like
Reduction In Turnaround Time :

Driver007 delivery platform can reduce the turnaround time for your business and increase the number of deliveries.

Transparency In Supply Chain :

With Driver007 App you can track your drivers in real-time which increases transparency to the customer.

Enhanced Customer Experience :

Furnish extra-ordinary delivery service with feature-rich delivery software, to enhance your customer's experience.

Lessen Extra Resource costs :

Driver007 reduces the average delivery time which increases the number of deliveries thereby requires fewer delivery persons.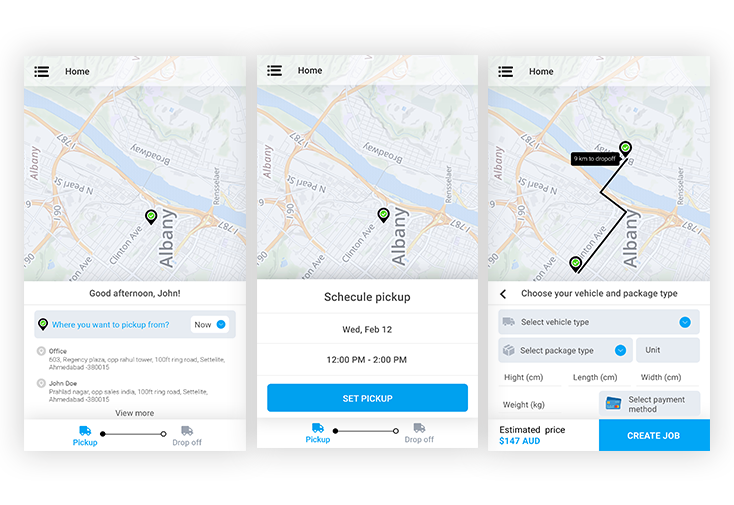 Looking to automate, streamline your delivery process, want to witness a surge in your business efficiency and profits, then reach out to us for a solution.
Our Products
For Excellence
Software designed, build for possibilities and inventing better future.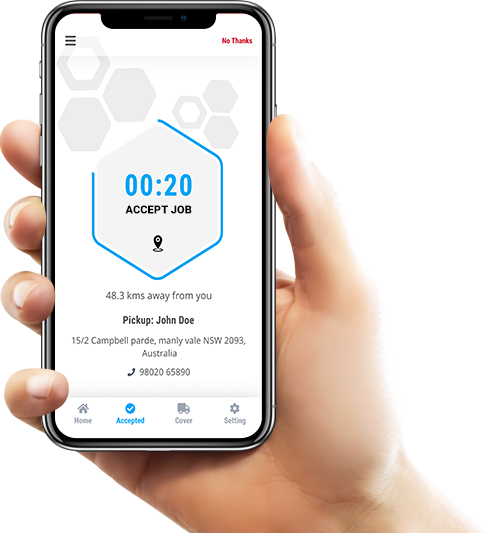 A perfect
business
companion/partner
We deliver products that effortlessly manages your business, run fast, costs less and a real time solution.
Your inquiry is precious to us. We will be delighted to help you in your queries. Our customer care representative will be back to you shortly within 24 hours and would be delighted to do free analysis of your requirement. For prompt reply please contact us on Phone No: +91 87 80064339 or Skype: sstechsystem. Otherwise we will revert back to you on your email. Until then make certain to have a look at our resources blog, portfolio, products