Drupal Commerce is open source ecommerce software that expands content management system. Drupal Commerce presents products for purchase, walks customers through the checkout process, keeps track of invoices, receipts, orders and payments, facilitates shipping, payment and performs other functions needed by online merchants. It creates engaging web experiences that bring e-retailers more traffic to drive more results. Online retailers have a powerful platform to integrate a rich commerce experience.
Drupal Commerce is content driven, it connects content and products seamlessly to drive online sales and influence offline sales through a rich user experience. It is highly flexible ecommerce Solution and ideal for all types of physical and non-physical items that require unique payment models (i.e. recurring, licensing, and subscription).Drupal commerce facilitates lower costs, higher quality, greater innovation, faster speed and excellent security. Non-technical personnel can easily execute changes and test new ideas making it the perfect fit for marketing-driven commerce. The changing needs of websites of any size can be meet through integration with third-party systems, feature, and functionality enhancements. It is easy to set up a shopping cart, checkout pages, and product pages as well as to calculate balances, taxes, discounts.
Benefits Of Drupal Commerce
Enterprise level top notch security
Proper maintenance of large amounts of content and data to look more impressive
Its defaulting caching features enables to load pages faster.
Ideal for community platform sites that require complex data organization with multiple users.
Flexible with lots of versatility
Stable and Scalable
Advanced control over URL structure
Built for high performance
Advanced menu management, polls management, graphics modification tool and user management.
Supports multiple site stakeholders (admin, editors, logged in users requiring customized content private groups etc.
Highly responsive websites can be develop easily for any of the devices
It uses high standards of technology.
Drupal can handle a lot of traffic with ease with a decent server infrastructure to run it.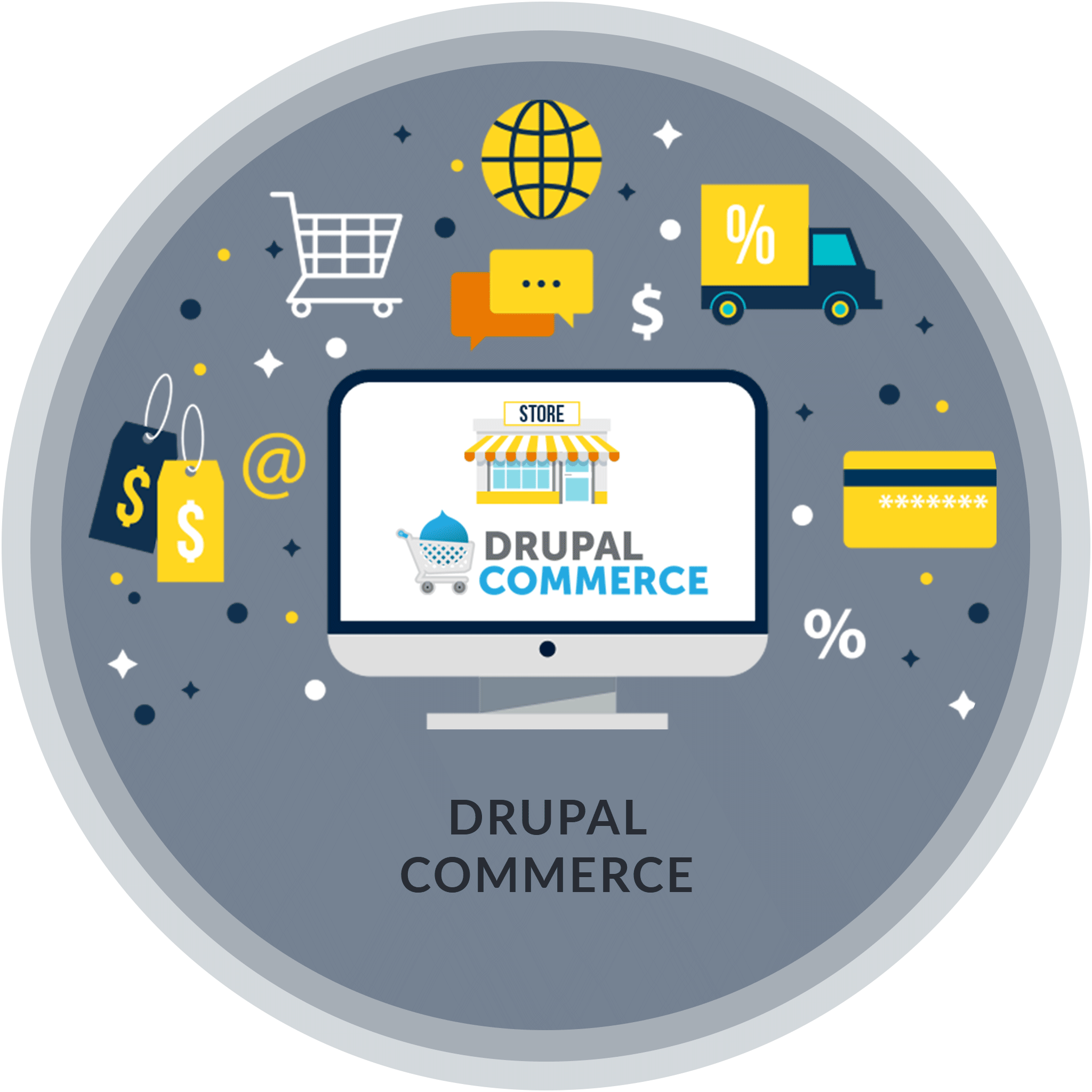 Our Drupal Commerce solution gives flexible, rich user experience for all your business needs.
Benefits
for your business
It's Original And Unique, That Appeals To Your Target Audience.

Extensive Support
The range, scope and support services are extensive, always growing & evolving. All of our services are based on the same principles

Multiple OS, Many Devices
Simplify your IT operation for evolving business demands with our applicationsthat are built for multiple OS and many devices at the same time.

High Security
Assured High Security, Privacy and Protection from outside sources through our applications and gain true business success.