Cloud solution has redefined IT infrastructure architecture, as well as how to design, plan and scale your cloud implementation. It is a wide-ranging managed technology service that is customized for clients without centralized servers and a mobile workforce that still require a high level of collaboration, support, and security. Cloud solution promises enterprises an enhanced performance, high scalability, mobility, agility, security, and accessibility to their existing IT infrastructure.
Improved security and compliance
Drive down costs
Lessen operational issues
Business agility
Reduced support and hardware needs
Anywhere, anytime collaboration
Data security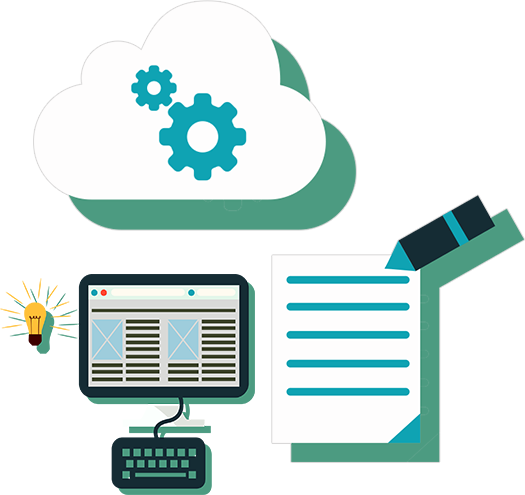 Data is the backbone of your business. Our cloud solutions deliver the ultimate freedom, mobility, and speed that your data needs. It protects data anywhere, safeguards your precious data wherever it lives. Cloud backup solutions make it smooth and easy backup and restore your SaaS or on- premises data to the cloud. Cloud infrastructure is secure and always available with no downtime or loss of data. Cloud allows accessing your business anytime, anywhere. It helps enterprises to become fully digitalized. It helps to engage and connect with a global customer base, or with a cloud-based information dashboard to keep management informed. Our highly skilled and talented team can deliver a custom solution that meets the current and future demands of your business.
Our cloud solution services diminish the project timelines and deployment risks. Our services are meant for the businesses to succeed. It increases speed, agility, and scalability. We take a good look at our client's goal and define our approach accordingly to ensure that they get the most out of the available cloud options. Our in-depth understanding of cloud services benefits enterprises to achieve their business goals.
Benefits
for your business
It's Original And Unique, That Appeals To Your Target Audience.

Extensive Support
The range, scope and support services are extensive, always growing & evolving. All of our services are based on the same principles

Multiple OS, Many Devices
Simplify your IT operation for evolving business demands with our applicationsthat are built for multiple OS and many devices at the same time.

High Security
Assured High Security, Privacy and Protection from outside sources through our applications and gain true business success.