Code Igniter is an open-source PHP framework which is used to create full-featured PHP based websites and applications. We create the fully functional PHP based applications and websites on MVC architecture with Codeignitor. Our focus is to offer applications that are compatible with various PHP versions, configurations and standard shared hosting accounts. Our proficient programmers are well versed with Code Igniter 3.0. Small and middle scale Php application can run fast with the minimal setup of Code Igniter framework. We can design and build a portal, corporate websites, professional website, corporate product, business site etc. with it. We provide dynamic, high quality, instinctive and organized web solutions to the clients.
Few of the Major Codeigniter Services
E-Commerce Development
Product Development
Website Development
Customization And Integration Services
Portal Development
Application Migration
Custom Development
Maintenance And Support
Application Development
Third Party Integration Services
Integration Of Payment Gateways With CI
Facebook/Twitter Integration With CI
Popular Features of Code igniter
Loosely built on MVC architecture
Better and cleaner documentation
Built-in security tools
Easy configuration
Database extraction
Code reusability
Free coupling
Handy tools like zip coding, validation, calendar, email and unit testing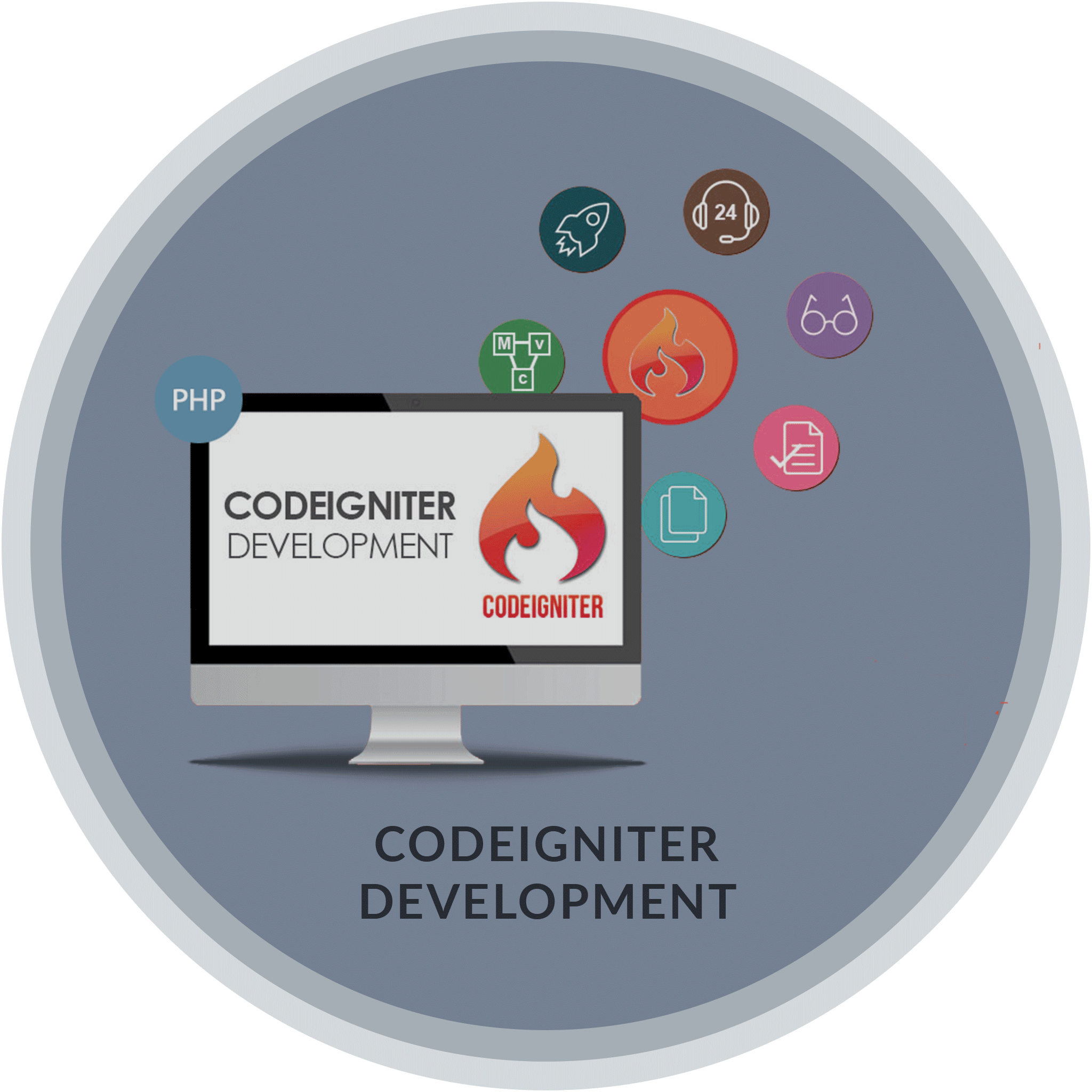 We make our code Igniter framework development service beneficial with:
MVC Architecture: Code Igniter is known as the MVC framework. All our skilled programmers are proficient in comprehending and handling the Model-View-Controller architecture, which ultimately provides easy management and flexibility.
Error-free Implementation: We offer error-free and genuine implementation of Code igniter. Our developers are well versed with the latest versions of PHP language and its configurations. They keep themselves abreast with the latest trend in the industry.
Speedy Development: Code Igniter framework is known for its quick development environment as it is powered by pre-written codes that have been saved in the library. Our developers make correct use of these codes for speedy development.
Multiple Platform Support: We work on Linux, Mac OS, Windows to implement Code Igniter and attain better solutions. We also provide migration from one server to another easily.
Why Opt Us For Code igniter Framework Development
Proven Outsourcing process for Code igniter framework development
Project delivery at affordable cost
Highly competent, rich experienced and skilled developers
Technical supports with several modes of communication
Maintaining information confidentiality with a Non-disclosure agreement
Benefits
for your business
It's Original And Unique, That Appeals To Your Target Audience.

Extensive Support
The range, scope and support services are extensive, always growing & evolving. All of our services are based on the same principles

Multiple OS, Many Devices
Simplify your IT operation for evolving business demands with our applicationsthat are built for multiple OS and many devices at the same time.

High Security
Assured High Security, Privacy and Protection from outside sources through our applications and gain true business success.