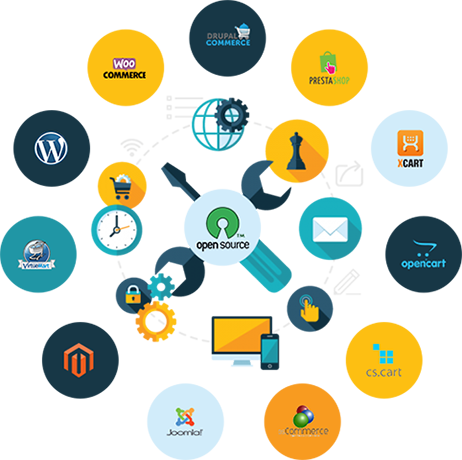 Open Source Development is becoming popular worldwide as it helps the businesses to grow efficiently with low cost on development. Open source nullifies license fee, that occurs in proprietary software, continuous expansion of widget library, ability to deploy components according to needs.
Open Source solutions make a website easily navigable and user-friendly through an infinite number of features. It is an ideal solution to save time and cost with innovative graphics, impressive content components, and amazing UX. Utilizing our open source development services, improve your site execution and functionality in different ways. With the impressive experience, we have successfully developed some of the most reliable, secure, high performance and dynamic websites using various open source platforms. With Open script programming language, our software engineers create the pages with an effective interface. Our unique customized open source development benefits your business success.
It ensures quality with freedom and flexibility
Widely supported, Reliable and Secure.
Its Economical
Our high level of competency in open source development enables us to fulfill client requirements, help them to meet business challenges which results in increase return on investment. We provide total lifecycle management with offshore technical support. Our cost-effective multi-development platform saves a great deal of time.
Benefits
for your business
It's Original And Unique, That Appeals To Your Target Audience.

Extensive Support
The range, scope and support services are extensive, always growing & evolving. All of our services are based on the same principles

Multiple OS, Many Devices
Simplify your IT operation for evolving business demands with our applicationsthat are built for multiple OS and many devices at the same time.

High Security
Assured High Security, Privacy and Protection from outside sources through our applications and gain true business success.